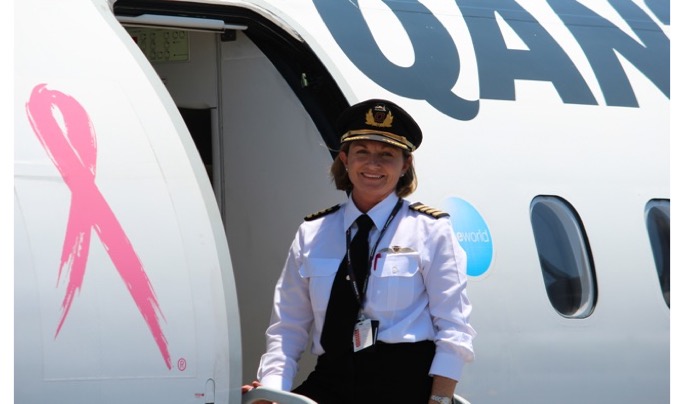 Helene Young has recently retired after a 28 year career in aviation.
A check captain with Australia's largest regional airline, QantasLink, her job was to ensure aircrew can handle all inflight emergencies. She also held the position of Queensland Regional Flying Manager for QantasLink for two years prior to retirement.
The inspiration for her first novel began with a tragic discovery. "Early one morning, walking our dog, I found a body washed up on Trinity Beach. While there was nothing sinister in that discovery, it planted the seed of an idea for a novel focusing on the terrorist threat to Australia. Working as a captain with Australia's largest regional airline I fly with crews who have flown for the current Customs and Border Protection contractor. That made it easy to draw on their experiences and weave my characters through a realistic scenario."
Helene books have won the Romance Writers of Australia Romantic Book of the Year Award in 2011 and 2012. She was also voted favourite romantic suspense author by the Australian Romance Readers Association in 2010, 2011, 2013, 2014 and 2015, and was shortlisted for the same award in 2012. Burning Lies was shortlisted for the 2013 Daphne du Maurier Award Mystery/Suspense in America.
Her latest release, RETURN TO ROSEGLEN, is a family drama which peels back the layers of familial love and highlights the growing crime of elder abuse.
Helene says, 'The #metoo movement has highlighted the need for women's stories to be heard,' Helene said. 'Fiction, written by women for women, is a wonderful opportunity to shine a spotlight on community issues and promote conversations and discussions that can help shape our future for the better.'
You'll now find her sailing the Coral Sea with her husband aboard their catamaran, Roo Bin Esque. In between seeking new adventures she finds time to indulge her love of tropical gardens, cooking, and discovering new authors and their wonderful books.
Helene is available for speaking engagements, school visits or library chats. She conducts writing courses at Writers Festivals and on behalf of the Queensland Writers Centre. She also travels to book clubs and writing groups on request.
Contact her:
Via the "Contact' tab on this website.
Or via her agent, Clare Forster, from Curtis Brown on 61 3 9388 8145 or email claref@curtisbrown.com.au
Her books:
WINGS OF FEAR(Border Watch), voted Romantic Book of the Year in 2011, is the first of her loosely linked trilogy focusing on the coastal surveillance operations round Australia.
SHATTERED SKY, the second book, which also won the Romantic Book of the Year 2012, is set in the world of the Outlawed Motorcycle gangs and organised crime. These first two books were also awarded the Favourite Romantic Suspense novels by the Australian Romance Readers Association in 2010 and 2011 respectively.
BURNING LIES, the final Border Watch book, was released in July 2012 by Penguin Australia. A passionate love story, it's set on the Atherton Tablelands at the height of bushfire season.
Helene's fourth novel, HALF MOON BAY, released 22nd May, 2103 was chosen as the June Book of the Month by The Get Reading team and Helene toured Australia talking to readers at libraries and community centres. Her story of a small town fighting a corrupt local government resonated strongly with readers. It was voted Favourite Romantic Suspense novel for 2013 by the Australian Romance Readers Association.
Helene's fifth book, SAFE HARBOUR, released in April 2014. Set in the coastal hamlet of Banksia Cove this 'friends to lovers' story is set against a back drop of drugs in sport and international crime syndicates. The action starts on page one and doesn't let up. It was also voted Favourite Romantic Suspense 2014 at the Australian Romance Readers Convention making it back to back wins for Helene's stories.
NORTHERN HEAT released on 27th May, 2015. Set in Cooktown, with a cyclone bearing down on the coast, this is a redemption story with the awful consequences of domestic violence at its heart. Picking up from SAFE HARBOUR, almost twelve months on, we see Conor finally show his true colours. It took out the Favourite Romantic Suspense award in 2015 at the Australian Romance Readers' Awards night.
Professional Aviation Qualifications
Regional Flying Manager, QantasLink, QLD
Check and Training Captain Dash 8 400
Airline Transport Pilot Licence
Grade One Multi-Engine IFR Flying Instructor
Civil Aviation Safety Authority Approved Testing Officer
Articles on Helene – Please also see the other pages under Media