Walsh's Pyramid (or Bundadjarruga) is a 922 metres high peak to the south of Cairns. It has a very distinctive shape – kind of like a pyramid really…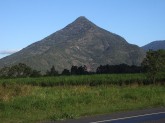 It's used as a training ground for those heading off to do the Kokoda trail. The Pyramid is also the scene of a race to the summit and back in late August. This year's winner took just under an 1.5 hrs for the round trip.
Well, after twelve years of procrastinating, we climbed it today! Took us 4 hrs… Two hours of hard slog up, half an hour recovering at the top, and an hour and half of knee-jarring descent. What better way to spend Father's Day!!!
The views are superb – 360 degrees from the top. The Goldsborough Valley lies to the west. South you can see Bellenden Ker(the second highest peak in Queensland), the town of Innisfail, and the coast. To the east is the Mulgrave Valley, and north lies the city of Cairns.
I'm headed south next weekend to climb Hinchinbrook Island with 11 other hardy souls, so this was a training run. Seems I may need some more training but don't have time to do much more…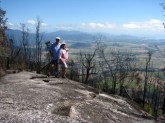 So next weekend there will be some new photos of beautiful North Queensland!