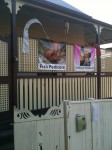 I grew up in East Brisbane and coming home to visit always throws up something interesting. I love my early morning walks threading my way through the backstreets, enjoying the changing face of the suburb and smiling at the growing sophistication that's come to a working class suburb.
Nothing shows that cosmopolitan journey more than the industries and commerce that now sit cheek by jowl with the newly renovated houses. There used to be rope factories and engineering workshops, butcher shops and corner stores. Today it's a little different.
Yesterday I caught sight of an advert on the side of a restored old queenslander. It stopped me mid-stride. Fish Pedicures?
It sounded both exotic and decadent. I had to know more, though it seems I'm behind the times…
Dr Fish have been around for many years, but in about 2006 the first commercial spa operations opened. In 2008 they cracked the American market. Seems the busy little toothless fish eat dead skin and have been living in outdoor spas in countries like Turkey for years doing their own brand of public service.
America got a little antsy  last year and state officials have closed down many of the operations due to concerns about transmittable diseases. But the tiny fish have their fans and watchdog groups are hitting back with their own lawsuits.
Healing Hands doesn't list the quirky pedicures on their site, but they certainly have a banner proclaiming it's availability. Now I just have to decide whether I (or any of my heroines) really want to be fish food…