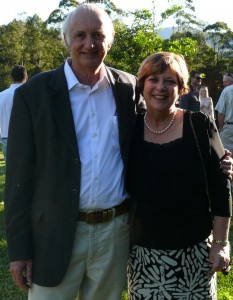 I'm delighted to welcome Barbara to my blog today. I met Barbara at my very first RWA conference in 2004. I'd read a number of her lovely stories and was thrilled to have my photo taken with her. She's now unofficial 'den mum' to the enthusiastic Nth Queensland RWA writers.
Barbara, you're the author of over thirty wonderful Sweet romances for HM&B. Where does your inspiration come from? Does a character evolve or arrive fully formed, or does a story start with a location?
Hi Helene, thanks so much for inviting me to your interesting blog.
Actually, the whole inspiration thing is a bit of a mystery for me. If I knew exactly where my ideas came from I'd never doubt that I'd be able to write another story. J
I'm afraid nothing arrives fully formed. My ideas evolve slowly, but initially, I always seem to start with an intriguing situation.
A father who learns that his daughter is not his biological offspring
A girl on Magnetic Island who swaps houses with a London banker
A woman whose son needs a kidney transplant, and has to go searching for the boy's father…
Once I'm intrigued by a situation, I ask myself questions about who this is happening to and where and why. Slowly, often with the help of collaging, the ideas growflesh and bones.
I knew you used collaging as part of your writing, Barbara, and I had a wonderful time working on my own at the last Nth Qld get together. I know it helped me with my recalcitrant hero… Do you use it for every story? How does it work?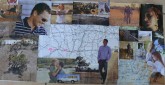 I'm a person who responds to visual images and during the 'dreaming" stage of a new book I love to gather pictures (mostly from magazines) that evoke the mood and world of that story. I find pictures of people, settings, clothes and objects. I'm not always sure what role they'll eventually play in my story, but if they 'speak to me' they go in the collage. I join three sheets of A4 and stick the pictures onto this, and keep them by my side while I'm writing. I find the collage really helps the transition back from real life into the world of my current story (especially with all my travel back and forth). The pictures also help the characters to come alive for me. They work in ways that are hard to explain, but I strongly recommend any writer to give it a go.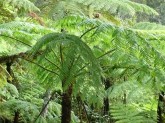 Living in North Queensland is wonderful (of course, I may well be biased…) but you are even luckier! You can choose between staying in the dry brown heat of Townsville and driving up to the relatively cool green of the Atherton Tablelands. Do you find your writing changes with your environment? Do you have a favourite place to write?
Certainly I'm lucky to have the chance to live in two very different, but equally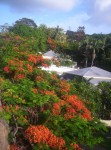 interesting places. When I'm in Townsville, I try to see as much of my family as I can, as well as catching up on movies, and I love taking morning walks along The Strand. When I'm on the Tablelands, I love to soak up the peace and "play" in my garden and walk around beautiful Lake Eacham. But when it comes to my writing, which takes up most of my days wherever I am, the location doesn't make much difference, because I need to forget about the outside world and immerse myself in the story. I have a job, so these other activities are squeezed in outside 9 to 5.
Tell us about your latest release, Executive: Expecting Tiny Twins which is out now.
This is book is No.2 in The Brides of Bella Rosa continuity and it's my first experience in writing a publisher devised continuity. The editors came up with our plots and I found it interesting to see how keen they were to push boundaries. In my story, my heroine, Lizzie Green is a forty year old politician who has decided to have a sperm donor baby, and the hero is a laidback Outback cattleman who is ten years younger than her. Although the setting was familiar to me, many story elements were new, and I was keen to take on the challenge. Seeding in the continuity details was also a new technique I had to master, but I enjoyed the experience and I'm looking forward to reading the whole series. It should be great!
What's next on the release list?
In August, one of my old favourites Outback with the Boss is being re-released in a 3-in-1 called Outback Bosses.
In October, Her Secret, His Son and A Parisian Proposition are being re-released as Author Favourites.
And in November my next new release will be A Miracle for His Secret Son – another story I have a soft spot for and based on the mother who needs her ex's help to save her sick son's life.
I know it's a hard ask because you have so much wisdom to share, but what advice do you have for aspiring writers targeting HM&B?
Really, the best advice is to read, read, and read. Immerse yourself in the genre until you understand instinctively what works in category and what it is that readers love and want to see repeated. Work out which line you enjoy the most, and then, within the line, which authors you really enjoy. Chances are, their styles will best suit your voice and they will be good models for you.
If you haven't joined Romance Writers of Australia, do so pronto. You'll be stunned by the fabulous advice they have to share.
Then send your work out, but be prepared to field rejections while you hone your craft. If you want people to hand over hard earned money to read what you've written, you have to reach a high professional standard – and of course, that doesn't happen overnight.
Oh, and remember that the hero is the most important character in your romance.
Good luck! It's worth it.
Elliot's interview in this month's Heart Talk was hysterical and very insightful. It should be mandatory reading for every DH! You two obviously have a great working relationship.
Yes, we do and I know I'm very lucky.
So, folks, how do your partners and family deal with having a writer in the house. Do they loiter outside the door of the study hoping to catch a glimpse of you, slide chocolate under the door when they hear anguished howls or, like Elliot, do they read your WIP? We'd love to hear your stories !
Executive: Expecting Tiny Twins

She's single, successful…and expecting double trouble!

Single and forty, Lizzie made the brave decision to have a baby—alone. A high-profile politician, she's come to the Outback away from the prying media and the Bella Rosa family feuding.

Jack Lewis is the cattle station manager. A prim, pampered city girl in a designer suit is the last thing he needs.

Jack's hotter than the Outback sun and Lizzie can't help noticing! But he's so not her type, and surely he isn't ready for dad duty?