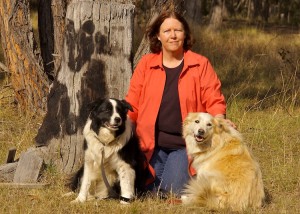 I'm very excited to welcome award winning author Bronwyn Parry to my blog today. Bronwyn was recently awarded the Best Romantic Suspense Novel in the ARRA awards. She's also a finalist in the RWAmerica RITA and the Daphne Du Maurier Award (go Bron!).
Helene, thanks so much for inviting me to 'visit'! It's been wonderful being friends with you the past few years, and I love that we're now both published in romantic suspense in Australia!
Thanks, Bron. 🙂 And can I say I love the photo of you and your dogs!
You write so vividly about the landscape and Dungirri, I have to ask are you a country girl born and bred or did you move  there from a city?
I guess you could say I'm a country girl at heart <g> When I was small, we lived east of Melbourne, at the foot of the Dandenong Ranges. These days, that's all suburbia, but back then it was more country town. We also had a block of bushland at Kangaroo Ground, north-east of Melbourne, and, except for the bull-ants, I loved going up there into the bush. We also went camping sometimes, and on day trips to some of the wonderful places in that part of Victoria. We moved to Canberra when I was six, and although it's Australia's capital, back then it was more like a slightly overgrown country town, with wide open spaces, and mountains beyond the paddocks. From the house I grew up in, you can see the Brindabella Ranges, and it's a view that still makes me catch my breath whenever I go back. We often did day trips and picnics to the Murrumbidgee River, the huge Tidbinbilla Nature Reserve, and into what is now Namadgi National Park; our family holidays took us further afield, but usually into the country, and that love of exploring back roads has stayed with me. I moved up to the New England district twenty-two years ago, and haven't regretted it for a moment. I travel a fair amount in regional NSW, and usually once a year at least we head into the real outback. We now live 22kms from town, on 100 acres of beautiful regrowth bushland, near the edge of the spectacular gorge country, and although I enjoy a visit to the city now and then, it's always such a wonderful sense of homecoming, to wind through the trees to our place.
Your place sounds so peaceful. Lucky you having Tidbinbilla so close!  What was the kernel of an idea that started in As Darkness Falls and how did that grow through Dark Country and now into First Light.
As Darkness Falls was born in a short vivid dream I had early one morning; a young woman, in an isolate bush area, confronting an angry crowd of people she knew, trying to convince them to leave a man suspected of something horrific alone, begging them to trust her to find the truth. It was a very powerful image, and eventually became the basis for the prologue of As Darkness Falls. Of course, from there I had to work out who she was, where she was, what had happened… and what would happen next! The books have grown from there, with characters emerging and the community's story evolving. It's a small town, so the ties are strong and the other residents had to be more than just bystanders. Kris was such a great secondary character in As Darkness Falls that I wanted to explore her story further; Dark Country gave me the opportunity to do that! I'm currently working on First Light, in which we find out more about Mark Strelitz, who has appeared in both previous books.
I loved reading Kris's story in Dark Country and I can't wait to read Mark's story in April next year! Did you set out to write stories about small towns or is that where the characters lead you?
Dungirri was born in that short, vivid dream – and immediately took on a life of its own in my imagination! A town has to have people, and their shared histories, and the classic writer's question of 'what if..?' helped shape characters and the town's story. What happens to a town when the timber mill closes, the drought dries up agricultural work, and businesses withdraw? Who stays? Who goes? What does it do to a small community when something terrible happens… and they've done it themselves?
How difficult has it been to keep the characters running true through all three books? Do you have a wall planner/index system with all their vital statistics? I'm guessing it's too hard to keep all that in your head…

Actually, a lot of it is in my (overcrowded) head! Initially, I did brief character sheets for the main characters, but that was early on, to get a sense of them. I do sometimes have to flip back through the published books to see what is said about someone, because I 'know' a lot about the characters that isn't in the books, and I can't always remember what went into the final version! There are also several documents with lists of townspeople, a couple of maps, and an excel spreadsheet that calculates relative ages and who was born in what year.
I love your secondary characters. They are all so wonderfully rounded and three dimensional. Do you have a process for that? Do they have their own story arcs?

Some of them do have, at least in my mind, their own stories. That probably helps to make them more real on the page, even if most of the detail never reaches the page. But it's fascinating how much can be woven in to the story, in small snippets, without info-dumping or backstory – and I love it when an opportunity arises to weave in some of those snippets and add to the characterization of both the main characters and the secondary ones.
It's the snippets that flesh them out and make them so believable. How do you approach writing? Do you have a set routine?
A routine? Hmm.. I'm not sure what this word means…. J No, I'm definitely not a routine person; writers are often advised to write every day, even if it's only a few words, but personally I work much better if I know I have a block of time ahead of me. Afternoons and evenings, into the night, are my more productive times; there's something about the stillness and the darkness outside that lets my imagination focus and the words come together…
Now for something completely different… I keep reading tweets from you that make my mouth water so you clearly enjoy cooking. Do you have a favourite recipe you'd like to share?
Well, it's not so much that I enjoy cooking, as much that I enjoy eating home-cooked food! I try to avoid many preservatives and additives, so I make most things from scratch, but I use mostly simple recipes; my basic approach is that life's too short to spend hours in the kitchen, but tasty, healthy meals and not-quite-so-healthy snacks don't have to take hours, or be stressful. Nigella and I would get along just fine J.
A favourite recipe? An oldie but a goodie – a super-simple, super-wicked chocolate fudge:
1 can of sweetened condensed milk
1 pack of dark choc melts
Optional – half a block of Cadbury's Peppermint Chocolate (Or you
could add other things if you wish – eg dried fruit or nuts.)
Line a baking tray (about 20 x 30cm) with baking paper. Combine the chocolate and condensed milk in a saucepan, and stir (almost constantly) over a low heat until melted and smooth. Pour into the baking tray. Refrigerate overnight. Cut into small pieces. Eat. Eat some more.
Yum, I will have to try whipping that up. I think I'll have to hide it from GW…
So folks, we'd love to hear about your favourite winter treat! Is it a delicious pudding, a warming soup or a divine pasta dish? Leave a comment and you'll go into the running to have your dish included in Beyond the Borders! And Bron will also send a signed copy of either Dark Country or As Darkness Falls to one lucky reader!! Look forward to those mouth watering ideas:-)
Most people in the small town of Dungirri have considered Morgan 'Gil'
Gillespie a murderer for eighteen years, so he expects no welcome on his return. What he doesn't expect is the discovery of a woman's tortured body in the boot of his car, and new accusations of murder.

Wearied by too many deaths and doubting her own skills, local police  sergeant Kris Matthews isn't sure whether Gil is a decent man wronged
by life, or a brutal criminal she should be locking up. But she does know that he is not guilty of this murder – because she is his alibi .

Between organised crime, police corruption, and the hatred of a town, Gil has nowhere to hide. He needs to work out who's behind the murder before his enemies realise that the one thing more punishing than putting him back in prison would be to harm the few people he cares about.

Kris is determined to help him, but will their search for the truth make her the next target?

Extract from Dark County:

(This scene takes place immediately after Gil and Kris have rescued the elderly Jeanie Menotti from a fire, while the paramedics are tending to her. We're in Gil's POV here.)

"You care for her."

For Jeanie, Kris must have meant with her observation, but that wasn't his brain's first interpretation, and the words echoed in his head as an accusation.

"Yeah. I worked for her for a while." Those few words weren't adequate, but he didn't know how to describe what Jeanie had come to mean to him. How she'd shown him that there was a world beyond the hell with his father. How sometimes, in quiet times, they'd talked. Or rather, Jeanie had talked, and he'd listened. He'd realised later – years later – that in her own way, in her stories of her marriage, her life and community, she'd been teaching him things he'd needed to
learn.

He still had hold of Kris's hand. He uncurled his fingers, reached inside his jacket, and drew out the photo of a young Jeanie and her husband that he'd snatched from her bedside table. The light from the moon shone on the silver frame, and the couple smiling out of it, and Kris gently took it from him.

"This is what you went back for?"

He nodded. "She doesn't have many photos of him."

And even fewer, now. So little to be left of a man's life. Aldo Menotti, who'd survived war and imprisonment and made a new life in a young country and winked when he'd snuck sweets into a small boy's hand.

That memory had stayed with Gil, but distanced, as though the small boy was someone else, because then Aldo had died, fighting a bushfire, and not long afterwards the boy's mother had left, and there had been little kindness in his life after that.

"She'll be grateful to have it. So I might almost forgive you for scaring the hell out of me, Gillespie."