I realise the blog posts are a little out of order, but holidays will do that to you!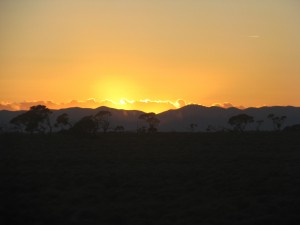 After one last gorgeous sunrise from The Ghan we stepped onto the station platform to be welcomed with a blast of air straight off Antarctica. Consequently we are both now proud owners of coats  – not much use to us in Cairns…
Adelaide is charming and organised and pretty. It reminded me of England, which isn't surprising considering its history. We've decided they have the cheapest and most efficient public transport of any Australian capital city. $9 took us all over Adelaide on trains, trams and buses  – GW was determined to get his money's worth 🙂
We were fortunate to have dinner with Phillipa Fioretti, author of The Fragment of Dreams, and her lovely family. I knew she could make jams, but I had no idea she was a talented pie maker as well! It was wonderful to kick back by their roaring fire and chat about writing. I treasure time spent with other writers as it happens all too infrequently and it's very easy to fall into the trap of thinking you're the only one dealing with issues.
Next morning we headed down to Glenelg for breakfast and walked along to Brighton. Hold Fast Bay may have been named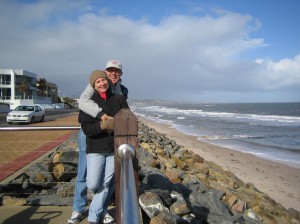 for its anchoring properties but, after almost being bowled over by the wind, I think the early settlers nailed its name! After three days of watching the view go passed it was lovely to stretch our legs and be amongst it again, even if I did have to resort to wearing a beanie. For once I didn't even dip my toes in the ocean – the dogs chasing sticks looked too cold!
The rest of the day was spent cooing over the Adelaide markets and drooling over the quality of the produce. Living in North Queensland is fantastic, but the heat plays havoc with fresh fruit and vegetables… We found a wonderful Greek Restaurant named Eros for dinner  – very appropriate for a romance writer!
The next day we wandered the city, checked out the Museum and their wonderful exhibit on Mawson and his Antarctic expeditions, and sheltered from the rain. The gardens around the city were beautiful and so different with their cold climate plants. I loved the statue of a reader along North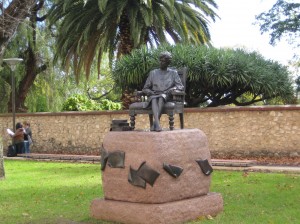 Terrace. In a little arcade I found the most amazing button shop with a wall of colour. I don't think I've ever seen so many or varied buttons in the one place. It was a day for quiet discovery.
By the time we'd had lunch a cold front was headed for Adelaide and we left just before it hit. When we landed back in Cairns we'd gone from 13 degrees in rain mid-afternoon to 18 degrees and clear night skies. Home. There's nothing as delightful as sinking into your own pillow!
Our holidays once again went in different directions to our plans but, like last year, it meant we saw more of this amazing land. I'll get to New York and Vancouver eventually – they're not going anywhere in a hurry! Now it's back to work with a stack more new ideas for stories bubbling around in my head.