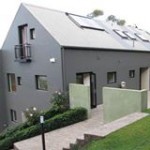 A few years ago I spent a wonderful creative week tucked up in the Blue Mountains at Varuna. Under the guidance of Peter Bishop I worked on the manuscript that eventually became Shattered Sky. The serenity gave me time to write, Peter's quiet wisdom opened doors to new possibilities, and the companionship of other writers provided encouragement and support.
In 2014 I have the opportunity to be involved in something similar which will allow me to give something back to the writing community or  pay it forward if you like. I'm delighted to be part of a team of writers who've been brought together by Steve Rossiter to run a series of Novel Writing Retreats.  We'll be working at a property south of Hobart and I'll be there in June, mentoring six writers as they work on their writing project.
There are ten retreats throughout the year. All the details can be found here :
www.novelwritingretreataustralia.com
This is a wonderful opportunity for writers at all stages of their careers with work with Australian and International authors. Whatever your genre there's something for everyone in this innovative programme.