HALF MOON BAY
Voted by Australian Romance Readers Association –
Favourite Romantic Suspense 2013
Favourite Cover 2013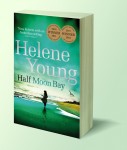 Ellie Wilding has been running from her past, but when the residents of Half Moon Bay call for help she knows it's finally time to return home.  As an international photojournalist, she's used to violence in war zones, but she's shocked when it erupts in the sleepy hamlet on the north coast of New South Wales, threatening all she holds dear.
Battle-weary Nicholas Lawson walked away from his military career leaving unfinished business. In a coastal backwater, that decision returns to haunt him. He remembers all too vividly his last lethal assignment in Afghanistan when Ellie's sister, Nina, was shot and killed. Ellie's been in his dreams ever since, even if she doesn't remember him…
As a storm rages and floodwaters rise, Ellie struggles to save her community. But who can she trust? Nick Lawson, the dangerously attractive stranger with secrets, or an old friend who's never let her down?
A compelling story of danger and desire by the award-winning author of Burning Lies.
'Plenty of action, sizzling romance and page-turning suspense' Book'd Out
'Helene Young is a very accomplished writer, building her romance and suspense with verve and skill.' Sisters in Crime