SAFE HARBOUR – 26th March, 2014
Voted by the Australian Romance Readers Association –
FAVOURITE ROMANTIC SUSPENSE 2014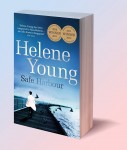 When Darcy Fletcher drags a handsome sailor from a stricken yacht, she finds herself drawn into his

mysterious world.  Having saved his life can she now rescue him from his dark past? Or will that endanger all she holds most dear?
Noah, keeper of the peace and guardian of the Banskia Cove secrets, knows he can't he tell Darcy the real reason this man has washed up on their shores. If she knew the links between the stranger and her own dysfunctional family, she'd flee the Cove and he'd lose her love forever.
As they take refuge in an old whaling station, only one thing is certain – by morning, no one will be the same again. Lies will surface. Hearts will break, and not all will find safe harbour.
A heart-stopping novel of high drama and desire by Australia's award-winning master of romantic suspense.
Read an excerpt here: Chapter One
AVAILABLE IN ALL GOOD BOOKS STORES AND ON-LINE 26th MARCH, 2014