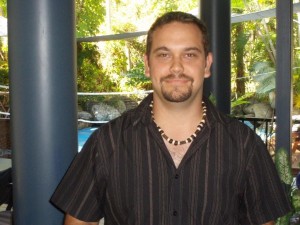 Today I'm featuring another talented exhibitor at Glaskins Gallery. Please welcome Thomas Storrie.
Like Tanya, Thomas found his artistic ability at a young age. At school he excelled at arts, graphics and most things to do with using his hands. He went on to complete a Diploma of Visual arts at Central Gippsland Institute of TAFE in Victoria and then studied Indigenous art at Tropical North Queensland Institute of TAFE in Cairns. (He's is also a fully qualified upholsterer, though I think he'd be wasting his talents sorting out my couch!)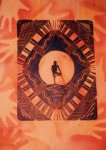 Thomas is of  North Queensland Koko Lamalama and Kuku Yalanji descent with a dash of Scottish and German heritage. His Aboriginal heritage comes from his maternal grandmother, Pauline Daphne Koffal, nee Olsworth, who was born and raised in Yarrabah. Her father was from the Koko Lamalama people and her mother from the Kuku Yalianji people.
Thomas has fond memories of growing up around the Cairns area, fishing and swimming with family and friends. That influence can be seen very strongly in his art. At 29 he's already developed a loyal following and his works now have homes all over Australia.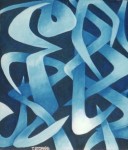 As a contemporary Indigenous artist, Thomas's works mainly consist of black and white photo-realism sketching, using charcoal and conte crayon, acrylic paints and linoprint. His artwork is an expression of his culture, thoughts, feelings, travels and experiences while growing up in such a rich environment as far North Queensland.
Thomas blieves that his artwork is constantly evolving and he is not afraid to try new medium and styles to add new dimensions to his art and production.
As well being featured in Glaskins Gallery, you can also find Thomas working as resident artist, painting and linoprinting in the gallery during opening hours.