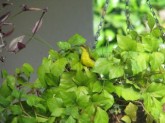 There's something so joyous in an animated discussion between a pair of sunbirds that I have to smile. These tiny northern-dwelling honey-eaters are happiest nesting as close to humans as they can reasonably manage – including building their homes hanging off the centre piece of a wind-chime… How's that for thrill seeking?
Like so many birds, the boys get the beautiful colours, but with that comes responsibility. They take turns not only building their ice cream cone shaped nests, but also sitting in them minding the eggs, and all being well, their chicks.
Sunbirds rate a special mention in Border Watch because of their unique personalities. In part it's because they mate for life, because they defend their young so fiercely and because they are optimists. It's possible you think I'm attributing human emotion to branch of the avian family in some sentimental madness (and you may be right…), but it's more than just poetic licence.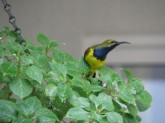 For the last twelve years I've watched them, cheering as they defend their nests, their young, against the savage attacks of butcher birds and kookaburras.
I  hear them scold each other when the soft feathers brought by one to line the nest doesn't live up to the designer expectations of their mate (nothing less than 1000 thread count egyptian cotton for theses guys!).
I laughed with them as they hang from my plants after the sprinklers have been on, washing their iridescent plummage, shrieking with delight. Then they stick around, their eyes bright, waiting hopefully for the shower to start again. When I give in and flick the tap, they fluff their wings and cheep with a high pitched squeal of joy that would do my nieces proud…
Even Zeus the wonder staffie knows that the backyard is to be shared with these little fellas and watches out for them with bullterrier like zeal!