Back to work… After a wonderful holiday it's always a touch hard to get motivated and this time was no exception. Spending so much time away from home with work meant I treasured the four weeks of having GW all to myself!
I'm back in Sydney now and I have one final story from holidays that I want to share. We decided we'd go fishing in Darwin and dutifully turned up at 5.30 am at the Buzz Cafe. There were eight happy little anglers – Carol and Dennis from Melbourne, Wendy, their sister from Katherine, Ron from Mackay, his brother, Don, and Dolly, Don's partner from Darwin. And the two of us!
It must have been pretty obvious to Simon the Skipper and Dan the Deckie that they had two raw recruits on board, but they patiently explained everything to us as we motored out into the waters north of Darwin. Carol, Dennis and Wendy had spent the week fishing. Carol caught the big fish of the day. Lucky someone knew what they were doing…
Ron looked like a sprightly retiree and I settled down for a chat. His opening line stopped me dead. 'Eighty years it took me to find me brother that I didn't even know I had,' he said, jerking his head at John. He went on to explain that they'd been separated when he was eight and his pregnant mother had moved out. I did a quick calculation. That made him eighty-eight and here he was out fishing like a spring chicken!
But this is really Dolly's story. She was an indigenous Australian and I think she and John had met at a mission school near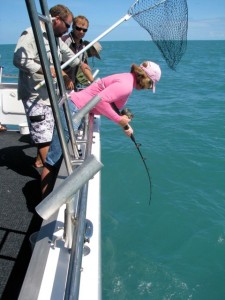 Darwin. She was elderly and silent, with a shy smile, and preferred a hand line to the high tech whippy little rods we were all using. She didn't catch anything and standing clearly tired her out. I offered to move the seat so she could sit closer to the railing. She shook her head. 'I'll watch you,' she said.
I could only laugh. So far I'd caught one undersized snapper that had thankfully lived to swim another day.  'So what am I doing wrong?' I asked.
She leant over the side and peered into the water. I joined her. Looked crystal clear and empty to me. 'Be still,' she finally said, with a little pat on my shoulder. She sat back down and folded her hands and smiled at me.
Right, I thought, be still. Reckon I can manage that for a bit. A minute, maybe two at the outside, went by then my line went tight, my rod bent and I only just managed to hang on to it. 'Bloody hell, Dolly, I've got one.'
She just smiled as the guys cleared the deck for me. Clueless as I was, I figure that poor fish had decided it was time to give some lucky angler their thrill. Afterwards when I thanked her for her advice, she just nodded again and said. 'Be still.'
Thanks Dolly, I will!