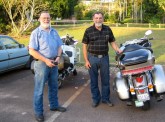 This should be titled 'The people you meet on the road'!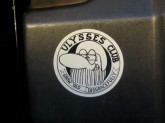 We went all the way to Darwin to have catch-up sunset drinks with Ray and Owen. They've spent the last week, along with 300 other bikers (as opposed to bikies…), riding from Brisbane to Darwin as part of a Ulysses Long Ride, raising funds for Prostate Cancer research.
A worthy cause for a couple of old fella's intent on living up to the club's motto – 'Grow old disgracefully'!!