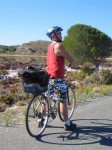 We cycled from one end of Rotto to the other, visited the Lighthouse, the Gun Battery and most of the lakes. For me it was a trip back to my childhood at Currumbin Beach – packs of kids running amuck with little or no adult supervision required. The smells of sea, cement and fish 'n chips, of wet hair, rotting seaweed and sizzling bbqs.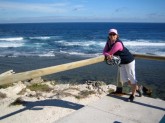 The feel of cold sand between my toes, the freezing shock of diving through a crystal clear wave, the sting of wind on wet cheeks cycling back into a head wind.
Thanks Rotto, it's been a fabulous week.