One of the exciting things about living in North Queensland is being part of such a wonderful diverse group of people. We've known artist, Tanya Sarianti Ashworth, since we moved to Cairns. It's been lovely watching her work develop and mature as she's grown in confidence. Her latest foray into facilitating an exhibition, rather than just producing beautiful artwork, has seen her learn a whole new range of skills. (Any day soon she'll surrender and launch her own web page so the world can discover her gorgeous vibrant work 🙂 ) The similarities between the world of writing and painting are strong, so I know how hard she's worked to achieve her success in a difficult industry.
If you're in town drop by and have a look.  Gallery c.1970 is situated on the corner of Shields and Lake St in Cairns City.
If you're lucky enough to be wandering around Palm Cove then browse through Ian Stephen's Village Gallery where you'll find some wonderful local art as well as Tanya's gorgeous ceramics.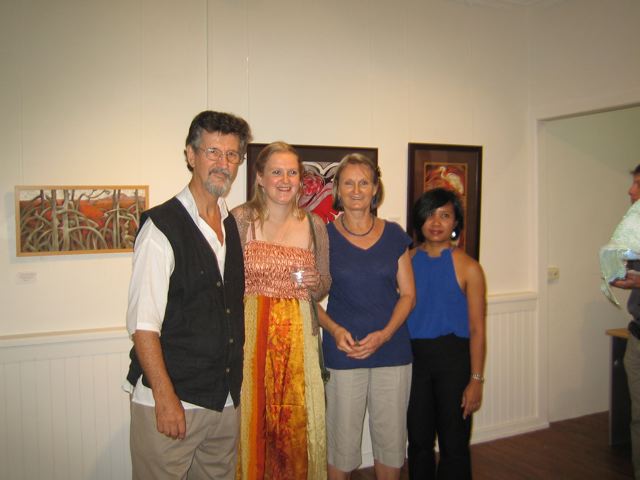 Exhibiting artists Ian Horn, Tasha Anderson-Riglar, Gen Anderson and Tanya Sarianti Ashworth (Sylvia Watts is absent)