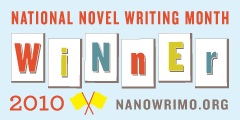 BURNING LIES (Book 3 in the Border Watch series) is now a little over halfway and 50,000 words long!
Am I excited?
Yep!!!
And exhausted…
Tomorrow morning I conduct my last simulator session as a Check Captain on the Dash 8 -300.
Tomorrow night I will be celebrating not just going home after three years of living out of a suitcase, but also writing 50,000 words in the month of November.
There's a bottle of vintage Moet that's been hiding in the fridge for an occasion like this 😀