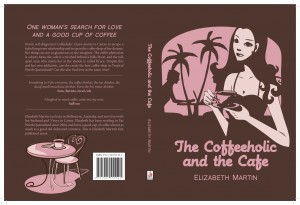 Today I welcome Elizabeth Martin to my blog.
Another North Queensland writer, Elizabeth's debut novel 'The Coffeeholic and the Cafe' was released by Booralong Press a couple of months ago. I had the pleasure of meeting Elizabeth at the wonderful Yungaburra Book Fair in October when she and Barbara Hannay very kindly chatted about their writing as part of a small panel discussion. (We even have the same exquisite taste in shoes 🙂 )
Elizabeth, congratulations on the release of  'The Coffeeholic and the Cafe,' and on being the Number 1 best seller for Collins Booksellers in Smithfield for three weeks running! Readers and fellow writers love a good 'Call' story so how did you get the call to say Boolarong wanted to publish The Coffeeholic and the Cafe?
Thanks, Helene.  My 'Call' story is very unimpressive.  Especially as that is the moment writers dream of when working away at their novel.  But the lead up to the 'Call' was amazing.  I had confessed to a friend that I'd written a novel.  She worked at the University (JCU) and suggested I go to an upcoming conference called "Tropics of the Imagination".  I took two days off work to go and felt like a naughty student wagging school.  During a break between lectures I stood (drinking a cup of coffee) next to a woman who asked if I were a writer.  I almost said 'No' then remembered I was!  I told her about The Coffeeholic and the Cafe, and she kept asking questions and wanted to know more.  She then told me she was a publisher.  It was the first time I'd pitched my story to anyone.  I was so excited I thought I would faint.  I thought if nothing further comes of this, it will all have been worth it.  Boolarong Press liked the first three chapters and emailed me to ask for the rest, then emailed me to set up a meeting.  The meeting had to wait until after Christmas, and then the publisher calmly told me they liked my book and wanted to publish it.  There were no calls involved at all!
A fabulous story, Elizabeth – one of those 'meant to be ' moments 🙂
What's your writing process? Do you plot out the story, fly by the seat of your pants and just write, or are you a scener who has conversations and situations going round in your head until you write them down?
I find I can only write about 700 words per day.  The rest of the day, between the things that fill up my life, I think about what I'm going to write.  When I was on a roll with the novel I got quite annoyed I had to interrupt this process and go to work (my day job!)  I imagine scenes as if they are a movie played before me, then string them together to make up the novel.  I find I have to plot later, to cobble it all together, otherwise I've over-thought the process and the story becomes stale even before it's written.  So I'd say I'm a scener with a bit of retrospective plotting.
Your story is very visual and would make a lovely movie! Where do you get your inspiration? Do you have favourite authors who've inspired you?
A lot of children's books give me inspiration!  I seem to read a fair few these days and they're very funny.  Especially AA Milne's Winnie the Pooh and Dr Seuss.  I have a book called Little Wynn's Giggly Thing which is about a girl who thinks she doesn't do anything useful at home, but likes making things, which she then hides in a cupboard.  Eventually she has the courage to bring the Closet Things out, and it makes the whole household run better.  It's a kid's analogy for Art. Sometimes as a writer I feel I should be doing something more useful, like the dishes.
I love Australian authors, particularly Richard Flanagan and Carmel Bird, and authors that convey a strong sense of place.  Books that aren't particularly readable can be inspiring too, because it makes me think, I can do better than that!  Other writers like Somerset Maugham are so wonderfully heartbreaking they can inspire me to try harder. Most of my inspiration, though, is in snatches of everyday life; a song on the radio, someone's unusual appearance, a strange looking cloud.
Was your path to publication littered with rejections (as for most writers…) or has your path been more straightforward?
One day I decided, I'm going to face rejection and be a real writer.  I had stopped myself from writing so often due to self-editing and censorship.  So I entered a few competitions with short stories, and when I didn't win, felt totally dejected.  I told myself "See, you're a hopeless writer.  What did you expect?" That dreadful feeling would last a day or so, but I'd console myself that all writers get rejected.  There's some great stories out there about famous authors who were rejected five million and twenty times and then finally got their break.  I sent my novel to about three agents who didn't want it, and then met my publisher, which I consider a stroke of luck.
While I was waiting for my novel to come out in August this year, I got a book in the mail.  A short story I'd sent to a competition 2 years earlier (and hadn't won, so therefore proof I was a hopeless writer) had been included in the anthology, Great Australian Rabbit Stories, published by the ABC.  It was a very good lesson to me, that our stories can have a life of their own after they leave us, and that "rejection" is mostly in the writer's mind.
That's good advice! Writers tend to suffer from perpetual angst and yet most of it's of our own making… What other advice do you have for aspiring writers?
Keep writing.  It doesn't matter if you don't like what you've written. Persistence is very important.  Most writers are sensitive, but try not to let that sensitivity stop you from sending your work out.  Eventually something will happen if you keep plugging away.
Also dream big.  I dreamt of writing a novel for a long time.  It wasn't until I dreamt of writing a novel that earned me enough money to buy a house by the ocean that the first dream came true.  Maybe if I dream even bigger the house will happen too…!  The dream was very important. I focused on it to get me writing, and also as an indulgence when I was away from writing.
Good luck with that bigger house! Seems perfectly reasonable to me except I dream of a bigger boat…
Where to from here? What are you currently working on?
I have started the sequel to my first novel, called The Coffeeholic Finds Another Love, as I'd like to continue Claire's adventure and self discovery.  I'd also like to write a murder mystery set in the tropics, something very different from the first book, written in the third person, but still using Australian places and people as a familiar backdrop.  These are grand projects.  In the meantime I am working on a short story, and soon will have to contemplate Christmas cards.
Thanks, Helene, for having me on your blog!
Ah the Christmas cards… It is that time of year went the hunt is on for the perfect present. Speaking of presents, one lucky person who leaves a comment will receive a signed copy of The Coffeeholic and the Cafe. We'd love to hear about your favourite coffee/barista/blend.
And for those that live in North Queensland, come and meet Elizabeth at the fabulous Collins Booksellers in Smithfield on Sunday, 5th December, from 11 am to 1pm. She'll be signing books and chatting about her inspiration.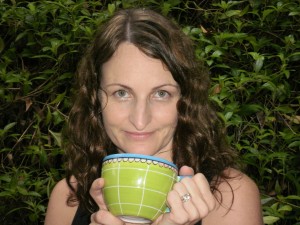 Elizabeth Martin was born in Melbourne, Australia, and now lives with her husband and 3 boys in Cairns.  Elizabeth has been residing in Far North since 2000, and loves a good cup of coffee almost as much as a good old-fashioned romance.  This is Elizabeth Martin's first published novel.