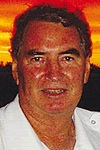 No, I'm not talking about another day at work although I could be 🙂 My guest on the blog today is debut author Ross Isaacson whose book, 'TINY OFFICE, GREAT VEIWS', was released earlier this year. For any aviation tragics in your family it's the perfect Christmas present (hint, hint).  Ross takes a light-hearted look back at the 33 years he's spent in Australian aviation, both in light aircraft operations and airlines. The book is full of photos, sketches and stories from his career.
Ross partnered up with Sid Harta Publishers so his experiences are a little different from my publishing journey. He's currently still juggling a ground aviation job as well as writing so I only managed to pin him down to answer a couple of questions in between shifts.
Here's what he had to say about partnership publishing.
What made you put pen to paper and write your story?
I had been thinking for many years that I ought to write about my experiences, but never done anything positive about it. With the collapse of my last employer, and not having much chance of getting another job at the age of 66, I decided that I might as well give it a go.
I had no prior experience or training and had no idea how to go about it other than putting down a few points and expanding on them, then cutting and pasting to fit them into their appropriate chapters.  An acquaintance helped give some structure to the book, but in some ways that took my "style" out of it.  I eventually did my own thing as many people said, 'It's Your book, not his!'
A very close friend and ex school headmaster in Cairns was extremely helpful in checking grammar, and giving me a few helpful hints as well.
As a way of being able to concentrate, I 'went bush' for four separate weeks with just the laptop and my gorgeous little doggie.  I love being out bush.
I really enjoyed the writing and wish I could do more, but alas, at present I can't. Like my flying career, I never ever thought or wanted to be a writer, and I suppose that this effort is really only recalling my memories.
Since then, I have started writing Book 2, a fiction murder/adventure story set in North Queensland. Being fiction, it was hard to start with as all my writing has been telling a story as accurately as possible – not stretching the truth and imagination!
I have written five chapters, but done nothing for the past four months because I'm too busy with the current book promotion and the airport job.
It's always so hard finding the time to write… sigh…
What sparked your interest in aviation?
Nothing really.  I was not interested in it until I went for a glider ride.  Even then, I really didn't have any urge to go commercial flying. Even while I was learning the power flying, it still didn't give me any 'rush'.  I just somehow finished up being there ! Mind you, I was sick to death of my wife and fruit growing and, since I had the qualifications, I thought "bugger it, why not"
Hmm, sounds like your title could have been 'The Accidental Aviator…' You've certainly seen lots of variety in your flying. Did one job stand out from the rest as your favourite aviation job?
I think probably the days of Southern Pacific Regional Airlines, while I was based in Brisbane.  It was a company where you were treated with respect, it felt like you were part of a family, and you really did want to go to work because it was more fun than staying home.
We did RPT schedules up and down the Qld coast in opposition to Sunstate, (now Qantaslink), there was great camaraderie, we had pride in our work and network, we really enjoyed the people we were working with and the company that employed us, we were flying very pleasant aeroplanes, and, we even got paid for it !  What more could you want ?
I know that feeling, Ross. I was part of Sunstate (before we morphed into QL) and loved that same 'family company' feel.
What was the publishing process you followed with Sid Harta.
I saw an ad in the Qld writers magazine for Sid Harta,  sent an email and Kerry phoned me about 20 mins later.  He was in Melbourne and I was about to go down there to celebrate my daughter's fortieth birthday with my son and his wife from Sydney. While I was down there, I visited him and got the story, so decided to continue with him. Kerry's been very supportive.
I submitted the manuscript, it was assessed  and I was offered a contract. Once I paid the upfront money, it went from there.  The text editor was extremely quick and very helpful, but the graphics editor was extremely slow and unhelpful…  I submitted the manuscript I Oct 2009 and it has taken 13 months to get to print from there.  Slow and painful…
LOL, I think everyone finds publishing's painful which must make all writers a touch masochistic… Thanks for sparing the time for my questions, Ross. I'm sure TINY OFFICE, GREAT VIEWS will fly off the shelf (pun intended…) and hope you find the time to push on with your next story.
Here's a photo from my archives of a stunning day flying home to Cairns from Horn Island 🙂