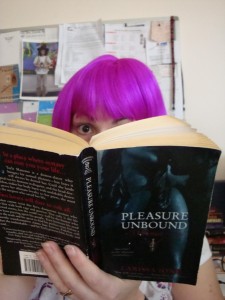 Today I'm delighted to welcome Maree Anderson to my blog. I love reading her blog posts as they are always hysterically funny and full of life! Her new book FROM THE ASHES has just been released by Red Sage and it looks fantastic – a very gorgeous hero on the cover 🙂 And one lucky visitor will be taking him home to bed! Sigh… (And this is extra hot reading material.)
Maree I have to ask, where oh where do you get your fantastic inspiration from? A space courier who's one feisty lady, a sex-slave that can read minds?? FROM THE ASHES sounds very, very hot!
What can I say? I have a very warped and twisted imagination. And I get my inspiration from magazines, TV, movies, books, song lyrics — all over the place. I'll read or hear a phrase and something will just resonate in my mind and I'll start playing the "ooh! What if…?" game. If it morphs into a keeper idea, I'll be lying in bed, trying to convince myself it's time to sleep, and instead of drifting off I'll be seeing a scene or a situation with a character. And my sub-conscious will keep playing round with the idea until I either write it, or accept that I'm gonna be an insomniac, LOL.
Calista, the heroine of From The Ashes, owns her own spaceship and travels the galaxy — how awesome would that be? Pretty. Darned. Awesome! She's a strong but very emotionally scarred heroine, whose heinous ex-husband sold her into slavery to pay off his debts…. Which is not at all awesome, but makes for some terrific motivation and conflict, because Asher's a Phoenixae alien, and his kind are bred as sex slaves. Calista didn't quite spring fully-formed into my mind. She was originally called something else that didn't quite fit her. But once I changed her name, she was off like a rocket and there was no holding her back.
Asher. Well, he was a bit more difficult — aren't the male of the species always? Not to mention that he came with some, er, extras that I hadn't actually planned on! *blushes* Extra man-parts aside, I wanted to make him truly alien. Here's kind of how Asher came to be Asher — Warning: scary insight into Maree's warped mind dead ahead. Don't say we didn't warn you 😉
"Asher hatches from an egg? Okay, I can work with that. But then Calista gets to deal with a squalling infant alien. And where on earth will she get diapers? Do they even have diapers in the future? Diapers. Ugh. Soooo not sexy. So… he grows into a fully-fledged adult male in mere seconds. Yeah, that sure works for me. Oooh, oooh, and it's genetically imperative that he psychically bonds with his intended master, so he knows exactly how to make his master happy… and then needs to do it. Coz, like, if the master's sad or angry, it rebounds and Asher feels physical and mental pain. How mean is that??? I like it! And… Calista's the only living being on board the ship, so there's no choice: She's gonna end up his master, even though she despises slavery. Oh, yeah *rubs hands and cackles with glee* Excellent plan.
Um, backstory. Coz, yanno, even aliens need backstory: Asher's egg was stolen and intended as a gift for a sadistic young man who's been exiled to the pleasure planet Libertinus. Mmmm. That's a nasty thought: Asher's kin might have been tortured — even killed — by psycho masters in the past. Asher's kind are a submissive race, who'll willingly subject themselves to their masters' whims. But I can't have a hero who'll be so eager to please he's practically powerless and therefore a victim waiting to happen. Or can I? Dammit, he can be a phoenix-alien, so if he's killed and his body's burned, he can be resurrected from the ashes. Oooh! And that will make him worth a small fortune, meaning that illegals will be falling over themselves to get their hands on him. But…. Rats. Not gonna work unless I can make Asher a true hero, instead of a victim that Calista feels compelled to protect. And this is an erotic romance, so the hero needs to be—"
You get the picture. It's a scary-ass thing, my warped mind. Little wonder I'm often distracted and socially inept. "Kids! Remember to stick the the… the… um… things we eat our food off in the thingy-bobby-whatsit." "You mean stack the dishwasher?" "Yeah. Thanks. That's what I mean. Now hush, I'm trying to write."
LOL – you give the idea of conflict/resolution an entirely new perspective for me!
You write YA as well as incredibly sexy Fantasy Paranormal. Do you write stories concurrently? How do you separate out such different genres in your writing?
I kind of fell into erotic romance when I entered a novella into the Red Sage Alpha Male Novella contest last year, and it finalled, and they asked to publish it. So I guess you could say I can obviously write pretty sexy stuff. But I started out writing fantasies and paranormals that were sensual, yes, but hardly candidates for the erotic romance genre.
The YA came about because I've always enjoyed reading YA stories and sharing them with my daughter. And she desperately wanted to read one of my manuscripts…. Which wasn't exactly possible given her age and the heat level of "those" scenes. So when I came up with the idea for Super-Freak, about a teen cyborg, I just went for it. I figured that if nothing else, my daughter would enjoy reading a story her mom had written. Funnily enough, that manuscript went on to win the Maryland Romance Writers Reveal Your Inner Vixen contest, for "sensual" scene. And the scene I submitted wasn't even the one where my hero and heroine finally kiss!
Anyway, I loved writing that manuscript. And for me, it was a very welcome break from writing fully-realized sex scenes. I have another idea for a YA fermenting, which I'm dying to explore — especially after a solid year or so of concentrating on the erotic romance genre.
Do I write my stories concurrently? I used to start one story and see it through to the end come hell or high water. Lately, I haven't quite had that luxury. For example, in between revisions on From The Ashes (my editor wanted me to expand the story even more), I got the chance to submit something for a Secrets anthology. So life, the universe and every-other-darn-thing got put aside while I wrote a novella in a huge hurry. Luckily I'd already completed my first ever outline (like, EVAH!) for what was intended to be a novel-length story, so I ended up scaling it back to novella-length for Secrets. Then it was back to working on From The Ashes. And emailing back and forth with my editor to brainstorm whether Scent Of A Man might work as an erotic romance.
Looking back, I'm not sure how I found the time but in between turning Scent Of A Man from a fantasy to an erotic romance, I also rewrote Super-Freak: I wanted to see what would happen if I turned my teen male cyborg character into a female. And now I've had the seal of approval from my daughter — "OMG, I love it! It's even better now, Mom!" (phew! it worked) I'm querying that story. Oh happy joy. Back to queries and rejections. Tell me why I wanted to be a writer again?
I will never complain that I am too busy again… That's a very heavy writing schedule… Which then begs the questions how did you develop your website? It's a wonderful example of what to do when creating a writer's spot in cyberspace.
I have The Best website designer. He's my husband, and he works for hugs and kisses *VBG*. It meant that I could say things like, "Can't you make that red less orangey but not too pinky? No, that's too pinky. Now it's too orangey… perfect! Now, about that background. I'd like a kind of chocolatey color…." He also did clever stuff like set up a customized newsletter that automatically goes out to subscribers either daily or weekly, whenever I publish a new post. And he combined my website with a blog, which works well for me.
Can you share a couple of your 'don't leave home without them' tips?
Don't leave home without a pen and paper. There'll come a time when your brain goes all mushy, and you won't be able to remember that really great idea for a story you came up with while you were careening down supermarket aisle, cursing because you've forgotten your shopping list, and fretting that you'll forget some crucial item you've run out of. (Like toilet paper!) And when you next get time to think, you'll have one helluva sore butt from kicking it because you didn't take like 5 seconds to jot that fabulous idea down.
Where to from here? From The Ashes is your first book length release. What are you working on now?
I've got another book length release coming out in February. Scent Of A Man is about Joseph Godwin, a virginal young nobleman raised in a world where chastity is rigidly enforced, who begins to emit pheromones that make him irresistible to women. Told you I had a reeeally warped imagination *VBG*
And another of my novellas, Kat On A Hot Tin Roof, will be published in Red Sage's Secrets Volume 30 anthology in June. It's a light, funny, paranormal — my first story to come out in print, so I'm hugely excited by the prospect of actually holding one of my published stories in my hands, as well as seeing it in electronic form.
As for what I'm working on now? I'd like to finish a manuscript I started months and months ago before my life got a wee bit insane. And there's that cool idea for a YA I had a couple of weeks back. Plus the outline for a contemporary romance I started a few months back. And I'm tossing up whether or not to rewrite another old manuscript as an erotic romance, like I did with Scent Of A Man. Honestly? I think I might have to go with writing something new, rather than re-writing an old story. My muse needs feeding or she gets cranky. And for some reason, she doesn't count rewriting old stories as sustenance — she's fussy that way.
There goes that overachiever gene again 🙂 Maree it's been fabulous having you here as a guest!
Thanks, Helene — it's been fantastic having a valid excuse to yarp on about my writing processes and my stories *VBG*.
(BTW, feel free to ask me questions — I love questions!)
And I'd like to give away an electronic ARC of FROM THE ASHES to one of your readers, too.
To be in the draw, please leave a comment telling me what kind of alien Asher is.
And because I'm a nice person — really, I am! — you'll find the answer in this handy dandy blurb:
FROM THE ASHES:


Calista's a freelance space courier recovering from a disastrous marriage during which her ex sold her as a slave. Sure, she's emotionally damaged, but you should see the state of her ex! She's also an expert pilot who can illegally reprogram and augment all manner of tech. She's been ripping off the system and flying under the radar her entire life. Until now.

Asher's her "cargo", the mouthwateringly gorgeous Phoenixae alien who accidentally hatched from the egg she was transporting, and bonded with her. He's been bred as a sex slave and he can read her mind. Which wouldn't be so bad if 1) she didn't abhor slavery and everything it represents, 2) she wasn't horny as hell, and 3) he wasn't doubly tempting because of his extra er, male parts! Oh, and then there's the small issue that if Asher is killed and his body burnt, he can be resurrected. He's one hot commodity that illegals will kill to possess.

Take one sex-deprived space courier who'll risk everything to save a Phoenixae alien from a life of slavery. Add one mouthwateringly hot alien sex-slave who knows her deepest desires, feels her pain, and lives to please her in every way. Mix with a ruthless ex-husband intent on vengeance. And stir in a sadistic Libertine noble who will do anything at all to get his hands on a Phoenixae.

From the ashes, an unexpected hero will emerge… and he's full of surprises!

(And if you'd like to read an excerpt of From The Ashes, click here: http://www.mareeanderson.com/books/from-the-ashes)

Cheers!

Maree Anderson

http://www.mareeanderson.com/
http://www.writersgonewild.blogspot.com/

http://www.facebook.com/mareeanderson
http://twitter.com/MareeAnderson