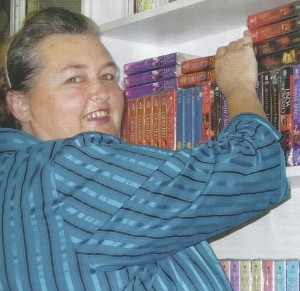 Ever wondered about Book Sellers and what motivates them, what keeps them going when the book industry seems such hardwork? Today I have Nicola Pitt of Love Books as my guest. She's based in rural Australia, but that hasn't stopped her becoming a growing force in the book world.
Nicola who is Love Books? Tell us a bit about the business and yourself.
I own and run Love Books – which is a specialist online Romance Bookstore – we have a presence on Ebay, Bookfair and also our own website www.lovebooks.net.au.  While we have been on Ebay since 2004 it has really evolved in the last 2 years to become a force in the Romance Book area.  Love Books now carries most authors well known in the US and UK simply because this allows our readers to be introduced to new concepts and ideas (not to mention new authors)that are not normally available in Australia.  We are also expanding into Teen Titles (and specifically Teen Romance).  We do also carry non-romance titles, but the romance is what we are really about.
There can never be too many happy endings in the world, Nicola 🙂 What enticed you into book selling?
I am a self confessed book junkie (or is that a bookaholic??) – so is my husband and my two daughters.  We actually have two rooms downstairs that are our personal library,  as well as my stock and my personal books which are upstairs…….  During stints out in Western Queensland we came to the realisation that in some small townships we actually had a broader range than the local library.  So when the opportunity arose to own a bookstore, well I really couldn't pass it up 🙂 It was almost karmic, lol!!  I can tell you I love coming into my office of a morning to  smell the "new book" smells, or opening a shipment when it arrives….and finding out what is coming… What I do is truly a labour of love 🙂 and I don't regret a minute of what I do 🙂
I can understand how that smell could be addictive… What's your favourite genre? If you don't have one, what's your most popular genre sales-wise?
To be honest I have 2 favourites.  I love Paranormal Romance (particularly Vampires) – I am currently waiting for my vampire posters to be framed so that they can hang all over my office which my youngest daughter and husband ordered for me (just because they know me so well – and none are Twilight inspired) and Romantic Suspense – meaty with lots of twists and turns. I also have a weakness for a good Sci-Fi book – I started that with Anne McCaffrey and when her son Todd took over it just continued!
For Love Books,  my most popular sales wise would be Paranormal followed by Historical.  People want to escape to the fantasy worlds at the moment with the hard economic times, and while there is a range of Contemporaries being released, they just don't have the draw power at the moment of a good bodice ripper or paranormal.
The paranormals have certainly taken a large chunk of the market haven't they. What trends do you see in the industry? The rise of e-book? On-line selling? Power of the internet?
The e-book is a rising star in the publishing world.  It certainly is here to stay, but I would like to think books are too. Most people I talk to about this say something similar to the fact that you can't read an ebook in the bath, or that there is something intrinsically sensual about the physical act of picking up a book, feeling the cover shift under your hands as you turn the pages….well I think that pretty much sums up the difference between readers and bookaholics…:).  Buying books online is so easy, that it is a growing medium.  The biggest drawback to buying online is really dependant on the bookseller you buy from, how quickly they can get the book to you – especially if they are dropshipping (where they don't actually have the stock on hand and arrange the order once they receive yours).   This is a growing facet of the industry and one of the reasons ebooks are starting to make their mark.  With an ebook it is virtually instant – buy and then download.  Many of the smaller independants do carry a surprising amount of stock on hand, which is why it is so much better to order from them – and they know their stock and can make suggestions to readers.  They are potentially the biggest losers in the ebook and dropship models though……and once they are gone, price rises will eventuate because there will be no competition.
The e-book revolution is going to ripple on for a while. Shattered Sky is being released as an e-book as well as in hard copy and that's very exciting for me.
If you could have dinner with any author who would you choose and why?
Nora Roberts….and I can say that because I have met Nalini Singh, Keri Arthur and Erica Hayes already.  Why Nora?  I have read and re-read so many of her books and my first romance was Nora Roberts Irish Thoroughbred 🙂 and in her alter-ego as JD Robb she writes the fabulous In Death series.  I would ask her about how Eve and Roarke took shape, about her motivations and triggers.  And of course how the series will end…..(which is not something I am personally looking forward to,  lol).
Following on from that would have to be Stephanie Laurens.  An absolutely amazing woman, who was a Research Scientist and became one of the best known historical romance authors of our time…..I mean, how cool is that?  And her heroes….oh wow! I would so like to meet Devil Cynster 🙂
Two fine choices, Nicola. They both write wonderful stories that keep you glued to the pages. I'd have to say Nora would top my list and probably Stella Rimington.
To celebrate the 'almost' release of Shattered Sky we have a copy to give away. Tell us which authors you'd like to have dinner with and why to go into the draw!