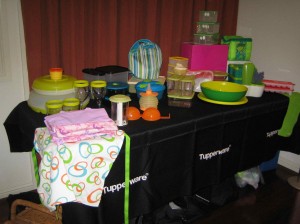 I've done it! I'm a virgin no more. I've finally succumbed to a Tupperware Party. My credit card has taken a hiding, but I will shortly be the proud owner of several sets of durable plastic dishes that will change my life!
Well, maybe not change my life, but certainly add some colour to my plastics' drawer. It's more by accident than design that I've reached the middle of my life without buying any of this iconic kitchenware. My mother's cupboard is proof of its durability, although I doubt the regurgitated green was the designers original shade  – at least I hope not!
Sitting around sipping champagne with other women of my generation (who already had fine collections) it did make me reflect on the art of re-invention. At 65 years of age, Tupperware may have had some significant surgery along the way, and there's nary a sign of a wrinkle, but she's aged gracefully. I'm sure there are those who consider her a touch tacky, but she shrugs it off with a gracious smile knowing she's found in lunch-boxes and kitchens all over the world. Was she, as some claim, the life-changing revolution that empowered women after they were unceremoniously dumped back into their kitchens after the end of World War II? I remember the ladies who ran Tupperware parties in the '60s as high-powered and scary so perhaps it did.
Now if I could just work out a way buy the boat to go with the gadgets I've ordered, even hubby will be a devotee 🙂