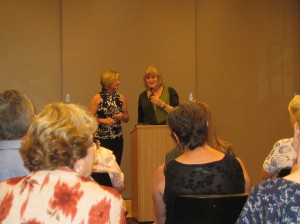 Receiving emails from readers who've enjoyed Wings of Fear (Border Watch) has been one of the unexpected joys of my publishing journey. Last night I found another one – library visits!
Graham and I flew down to Sydney then drove out to Camden for a library talk. It was a lovely intimate gathering with people who'd read and enjoyed my first book and wanted to chat about Shattered Sky. To hear them talking about my characters as if they were real was very special. Thanks to Virginia for organising the event, to Heather for helping out, to Michelle from Angus and Robertson for her support, and a huge thanks to those who came along (especially to several who drove so far!)
It was wonderful to see such a vibrant library supporting not only the community and but also writers. Their visiting writers programme is fantastic. In March new writer, Jaye Ford, is dropping by to talk about her new release Beyond Fear.
On Virginia's recommendation we finished the night at Enzo's Italian Restaurant. It was superb. The food was divine, the service attentive without being intrusive and D'Thierry the maitre'd was wonderful. The sambucca with gold leaf he generously shouted us topped the evening off perfectly.
All I have to do is angle to get an invite back next year 🙂