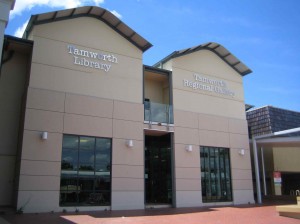 Yesterday we hopped on a Dash 8 and flew from Sydney to Tamworth. (It was a little strange being a passenger rather than sitting up the pointy end…) Feeling very spoilt after our lovely evening in Camden, we were ready to spend the day mellowing out in Tamworth and that's exactly what we did.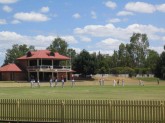 We strolled the main street, watched some cricket (in aid of Breast Cancer), sipped coffee, bought some boots and belts, and had a snooze in the park. When we arrived back at the Tamworth Library the wonderful Friends of the Library were in action buttering scones and piling them with jam. It took a lot of effort not to sneak one while no one was watching 🙂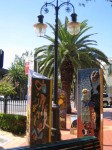 It was a very different feel from the night before as I was actually talking in the library. Having been trained at an early age to whisper in libraries it did take me a couple of minutes to settle in, but they were a lovely audience. They very generously shared their stories about farming and the Tamworth district afterwards.
Paul, from Angus and Roberston Tamworth, was there and it was great to have the support of a local book seller.
Thanks to Kate and her team for hosting me and thanks to everyone for making me feel so welcome.