Today's visitor, Sally Scott, is the Chief Flying Instructor of the North Queensland Aero Club.  She's been working in Commercial aviation for 18 years and is responsible for sending many young men and women onwards and literally upwards with their flying careers. To say I'm a little jealous of Sally would be an understatement. Being a flying instructor is hard work, the pay is average, but the rewards are huge. Every pilot can remember their first solo flight and it's instructors like Sally that make that happen. She, and others like her, are shaping the next generation of aviators in Australia.
Sally took some time out from her very busy schedule to answer my questions. I hope you enjoy a glimpse into her slice of aviation!
Sally, was there a pivotal moment when you knew flying was going to be your career? If so what was that moment?
In year 10 at high school in the early 90's, I did work experience on the Cape York mail run in Piper Aztecs.   Every day for 5 days I went in the Aztec with the pilots to many stations on the Cape to deliver the mail.  I absolutely fell in love with flying on these trips.  Seeing the Cape from the air and visiting these stations was an experience I will never forget.  From this moment on, I knew that flying was what I wanted to do.
Most people who don't fly have no idea of the many career paths available in aviation. You've chosen to carve out your career in flying training. What motivated you to take that particular course?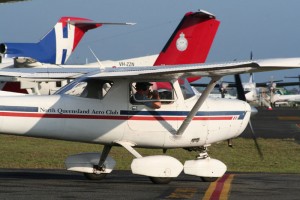 Funnily enough, I never intended on becoming an instructor, I just wanted to fly, and preferably in this part of North Queensland.  I obtained my Commercial Pilot Licence and did some scenic flights and charter work for the NQ Aero Club and then wondered what I really wanted to do with my CPL.  I wanted to stay in North Queensland  and enjoyed working for the Aero Club so I chatted to some of the instructors who told me that instructing was a lot of fun.  I started an instructor rating and 4 months later was a full time instructor and I have not looked back.  That was 13 years ago.  I get to teach people, but also to fly out west on navigation excersizes over the Cape and Gulf and see the beautiful country that made me fall in love with flying.  I love it and get a lot back from instructing. I still do a small amount of charter work and scenic flights and that helps to add to the variety of what I do.
I know you're heavily involved in shaping the Aviation training industry through your work on a CASA committee.  What significant changes can you see ahead for the industry?
I guess one of the big challenges currently and ahead for the industry is the rapid advancements in technology and how to manage that in regards to training of students.  Students still need to be taught the basics however in this modern world, there are so many new technologies that also need to be taught.  It is tricky balancing that sometimes.  It would be sad though, to loose the fundamental skills, especially of things like dead-reckoning navigation with the rapid advancement of GPS.
In recent years, much like the mining industry, aviation has seen a sharp rise in the number of women involved in it. You're now a senior member of the flying community. Have you had to navigate many pitfalls due to your gender?
No, I am lucky enough not to have experienced much of a problem with gender issues during my career.  I have come into aviation at a late enough stage that most of those problems were in the past before my time.  I have though, been aware sometimes of the imbalance of men and women around me.  I recall once being in a room at a meeting function at the Aero Club,  there was 52 men and I was the only woman.  It wasn't until the Chairman of the meeting said "Good evening and welcome Gentlemen, and Sally', that I realised I was in fact the only chick in the room!  It happened sometimes but you do become used to it.  There is still only such a small percentage of Commercial Pilots in Australia that are women, and I still don't understand why that is.
And finally, run us through a working day for a Chief Flying Instructor (and make that a dry, sunny day, not one in the middle of the wet season…)
Every day is different, a flight test perhaps, or doing peoples training lessons locally or on navigation flights.  We start
very early at the Club, usually about 6.30am and are doing circuit training in the early morning when it is calm and there isn't too much traffic about up until about 10am.  The circuit times are really when you see a student progress upwards before your eyes.  I can also be a frustrating time for students when they are trying to learn to land!  Some days for me will follow with local lessons or perhaps a navigation flight.  Other days I will do paperwork, depending on how busy we are and the weather.  I also do the maintenance scheduling of the Club aircraft, which takes some time and organisation. Ensuring the aircraft are properly airworthy is a vital when they are being used for training new students.  The job has huge levels of variety in it especially when it comes to the people you teach. One of the biggest surprises I got when I started teaching was how different each student was.  That part of the job is fascinating.
Just how individual each trainee is was something I found myself, Sally and it's one of the joys!
Sally's Bio gives an insight into the sort of time frame that's involved in carving out a career in aviation.
1992 started learning to fly in Cairns
1993 started working for the Aero Club as Office Receptionist after finishing year 12 in Nov 93'
1994 obtained a PPL
1995 obtained a CPL and was now part time office girl, part time scenic flight pilot
1997 obtained a Grade Three Instructor Rating and went from office girl to full time instructor
1998 obtained a Grade Two Instructor Rating
1999 obtained a Grade One Instructor Rating
2003 became the CFI of the NQAC
2010 invited to join CASA's Flying Training Panel while continuing to be CFI of NQAC.
We'll both be out in the skies above Cairns today so lets hope the sun manages to shine 🙂 Thanks again, Sally,  for taking the time to visit my blog.
If you live in in NQ and are thinking of taking up flying then head to NQAC and chat to Sally. You find her and her crew on the web at
http://www.nqac.com.au/index.html