Ever wondered what your dog does when you're at work?
For the last week I've been on holidays (read that as 'not flying aircraft but chained to my computer to sort Burning Lies out'…) so I've been privy to my dog's secret life.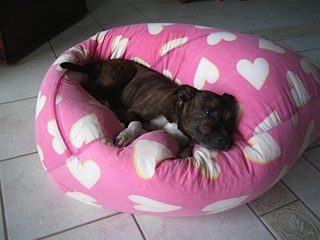 I thought this was how Zeus spent the vast majority of his day – ensconced on his beanbag, waking only to lick the parcel delivery man bearing more books for my overflowing shelves. I figured he probably mooched over to his dinner bowl and had a graze during the day. Maybe he got on the couch and pretended he was king of the house, alpha dog. He probably slipped in a little bit of sun baking, but by and large it was a pretty cruisie life.
I did know that by the time we came home from work he was up and alert, looking for trouble that might need sorting out (particularly little white fluffy dogs who may give him cheek) and on duty as the world's best practice guard dog.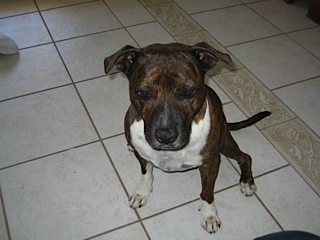 Never in my wildest dreams did I think he had a friend over the back fence who he spends hours talking to through the gaps in the wooden palings. Now if he was just having a chat that would be ok, but a staffy does not do things by half. His idea of saying 'Hi' is to attempt to dig through into the other yard all the while snapping and barking and growling as though he's somehow morphed into doberman on steriods. (No offence to dobermans of course!)
We had friends whose dog, unbeknownst to them, used to decamp not long after they went to work. It would go and hang around the local shopping centre doing the rounds of the butcher and the baker. Smart dog always made sure it was home before they were. It was only by accident that they ever discovered  the truth. Someone recognised the dog when they were out walking it.
So next time you head to work leaving the hound of the house behind spare a thought for what they really do when we're not around. At least I now understand the flat spots in my garden beds…