Do you visit Goodreads? Have you even heard of the site? Goodreads is another social networking tool, but this one is squarely targeted at people who love books. For me it's a little more addictive than Face Book as I've discovered all sorts of wonderful new authors via recommendations. You can list your favourite authors, review them, rank them, participate in on-line forums discussing their books. You can, like me, elect to be more of a 'lurker' and just browse the site.
One of the other things Goodreads does is to promote new releases with giveaways, promos and interviews. To celebrate the imminent release of my two books world-wide as ebooks I'm running a giveaway. There are four copies of Shattered Sky up for grabs. The eligible countries are listed on the giveaway page so check whether yours is one of them before you enter.
To enter click on the cover of Shattered Sky and it will take you to the Goodreads site.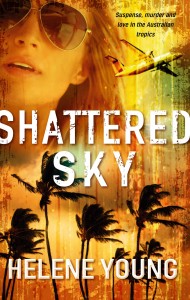 Good luck with the competitions and I hope you too find some more books to add to your 'To Be Read Pile!!' And feel free to let me know about any books you think are must reads 🙂