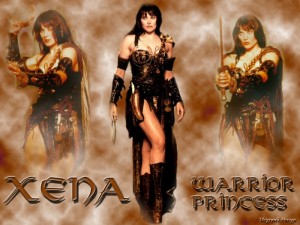 I had so many lightbulb moments during yesterday's workshop with Bob Mayer it's a wonder I didn't blow the fuses in the hotel. Bob runs a workshop formerly called 'Warrior Writer.'   I've been a Xena fan for many years so a course training me to be a Warrior Writer Princess was destined to suck me in.
And it did.
Bob Mayer is ex-special forces with the American military. I'm airing my ignorance here, but I'm not sure whether that means he was with the airforce or the army… Either way he's spent a lot of time throwing himself out of aircraft, off boats and into hostile territory. When he started writing fiction he came with immediate street cred and his books and sales reflect that.  (Having said that one of my writerly friends at the conference was not convinced that a mild mannered man of average height could really be ex-special forces…)
His writing course uses many of the techniques he learnt in the military. At first it seemed a little strange to be to be talking SOPs, tactics, strategies and weapons, but he's right. The mental toughness that makes a good soldier can translate to any high performance job and writing sits at the top end of that performance scale.
Ok, relax, he's not going to expect you to do 200 hundred push-ups in the mud or take up free-fall parachuting, but he will ask you to identify your strengths, weaknesses and skill sets. He'll ask you to have a catastrophe plan – a very useful thing to have – and he'll even make you identify your personality type. Just remember the answer to that may not necessarily be what you want to hear…
His premise is you need to understand yourself, your goals and your battle plan to succeed. One phrase that struck a chord was  'if you ain't cheating, you ain't trying.'
Huh? So I have to cheat to be a writer?
Not quite.
Bob related a story about wearing contact lens to cheat the eye test when he was attempting to join the Special Forces. I fly with far too many pilots who memorise the eye chart before their yearly medical so I can understand that mindset. If you want something so badly you're prepared to do almost anything to achieve it then you are likely to succeed. Now I'm  sure Bob's not suggesting you need to go and lie or cheat your way into a book contract, but if you're serious about writing then you will do whatever it takes to make it happen.
Is talent or determination going to get you published? I'd have to say determination is king. At this point in my writing career with two books in print and a third under consideration the workshop was timely and valuable. Just as soon as I get this blog post up I'll be revisiting my own strategy and assessing whether it needs to change.
Xena didn't sit on her laurels after a success so neither will I. Expect to see some changes on the blog but rest assured no-one will be killed or maimed in the remaking of the content 🙂
Check out Bob Mayer's website : http://www.bobmayer.org/
Follow Bob on twitter