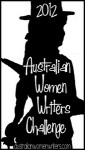 Yesterday was a reserve day and I was looking forward to a relaxing Saturday. My best laid plans unfortunately fell in a heap as work needed me to fly a Port Moresby return. I fantasised all the way there and back again about curling up for an afternoon nap.
Instead, GW made me a double shot latte for lunch and consequently by 1.30 pm I was wide awake and he was snoring. Feeling a little miffed I picked up a book I'd earmarked for the Australian Women Writers Challenge and started to read. Four hours later I closed the cover and realised I hadn't moved all afternoon. The book had swept me away.
What was it?
Let the Dead Lie, by Malla Nunn, is set in 1953 in Durban, South Africa, with World War 2 as a bleak backdrop. I've always had a fascination with Africa as a whole and have devoured stories by Wilbur Smith, Beverly Harper, Tony Parks, Katherine Scholes and a recent find, Margie Orford so I was predisposed to like it.
From the back cover : 'In Let the Dead Lie, Cooper is a changed man. Forced to resign from his position of Detective Sergeant and re-classified as mixed race, he winds up powerless and alone in the tough coastal city of Durban, mixing labouring with a bit of surveillance work for his old boss, Major van Niekerk.

Patrolling the freight yards one night, Cooper stumbles upon the body of a young white boy and, the detective in him can not, or will not, walk away. When two more bodies – this time black women – are discovered at his boarding house, he unwittingly becomes the prime suspect in a triple murder case.

At van Niekerk's behest, Cooper's given 48 hours to clear his name and – unofficially – solve the three murders. And so, temporarily back to being a European Detective Sergeant, he launches headlong into Durban's seedy underworld, a viper's nest of prostitution, drug running and violence run by a colourful cast of characters including wannabe Indian gangsters; a mysterious figure who drives a white De Soto convertible; a Zion Gospel preacher, and the exquisite yet streetwise Lana, who also happens to be van Niekerk's mistress…'
I wish I'd read 'A Beautiful Place to Die' first simply because I prefer to read series in order, but I didn't feel that I lost anything for reading 'Let the Dead Lie' as a stand alone.
From the opening scene, Ms Nunn took me to a seedy, segregated world where white was right and anyone else was fair game. Ex-detective Cooper is the sort of hero I love – a man broken because he has integrity and now on the wrong side of the law, but still incapable of total moral decay.
The book is peopled with characters Ms Nunn finely crafts with the deftest of touches. 'A flash of hot pink sari crossed Emmanuel's eye-line and a dozen glass bracelets chimed. An India woman in her fifties with sinewy greyhound limbs grabbed Parthiv's ear and twisted until his knees buckled.' That image of the Indian matriarch stayed with me for the story.
The plot is convoluted, turning back on itself in dead-ends and empty promises, but time ticks on relentlessly leaving Emmanuel Cooper with a diminishing number of options. Lana is not a traditional heroine and I was left feeling as though her story is yet to come. She is street-wise and cunning, but courageous with skills beyond her years. Her  vulnerability shows through just enough to make me cheer for her (and wish for an impossible happy ending…)
Durban was a character all of its own with the setting being more than just another waterfront town with a transient population. The palpable fear, but edgy defiance from so many characters, and even the buildings, added to the desperation in a town where no-one was what they first appeared to be.
Let the Dead Lie is good, gritty crime-fiction with compelling characters and a fascinating setting.
My rating – 4.5 Stars (If I could work out how to do that in symbols I would.)
From the Pan Mac website : 'Malla Nunn grew up in Swaziland before moving with her parents to Perth in the 1970s. She attended uni in WA, and then the US. In New York, she worked on film sets, wrote her first screenplay and met her American husband to be, before returning to Australia where she began writing and directing short films and corporate videos. Her debut novel A Beautiful Place to Die was published to international acclaim and won the 2009 Sisters in Crime Davitt Award for Best Adult Crime Novel by an Australian female author. Malla and her husband live in Sydney with their two children.'

Ms Nunn's third book, 'Blessed are the Dead' is due out in June 2012.