Today's guest is an author I've been crossing paths with since I joined RWA in 2005. It's wonderful to welcome her to my blog so close to the release of her debut novel, Vengeance Born. Here's our conversation!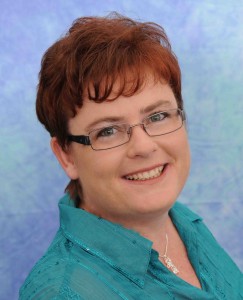 Release day is almost upon you! Congratulations, Kylie, it's a wonderful achievement.
Hi, Helene, and thank you – it's a VERY exciting time at the moment. After nearly 15 months (from contract offer to shelf), I'm finding it hard to believe Release Day is just around the corner! J
Looking back at the process what's been the most difficult aspect of taking your manuscript from infancy to bookshelf?
Oh, that's a good question. I had to mull this one over a while but I think the most difficult part of VENGEANCE BORN's evolution has been the waiting. Originally it was seeing the manuscript do well in contests, receiving requests from agents and editors, going through a mountain of rejections, until it finally found the "right" editor (Leis Pederson, who was the final judge in the WHRWA Emily contest) and then the time it took from contract to release date.
But the up side is I had plenty to keep me occupied in that time period – more writing,  more contests, more submitting, and once I sold, the whole process of getting three books ready for publication. A lot of juggling! LOL
The best bit has been seeing it go through the publishing process – I love the whole big revisions, copy edits, galleys, blurb & cover process. It's a team effort and one I really enjoyed.
How many name changes did Vengeance Born go through or did you keep your working title? If you didn't what was it's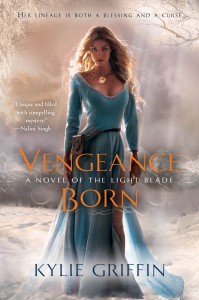 working title?
Only one change. Originally it was called Bloodborn, but with several Berkley releases coming out around the same time as my book with "blood" in the title, we decided to change it. It took a couple of weeks of playing around with words to come up with the new title.
I love VENGEANCE BORN because it highlights a major theme that threads it way through the book – it adds another layer of meaning to Annika and Kalan's story.
Pseudonyms are something that I constantly toy with. A last name beginning with 'Y' relegates me to bottom right shelf in every book story…. Why did you decided to go with a pen name and how did you choose Griffin?
This is a question I get asked a lot – especially from the children in my class and their parents. J
I went with Griffin for three reasons: a) it's my great grandmother's maiden name (from the paternal family tree) and I'm big on keeping it in the family!
b) like you, my given name would be closer to the bottom of the bookstore shelf, whereas G tends to be more central or at eye level for any prospective reader,
and c) Griffin suits the paranormal genre to a T!
Most authors I know have a pet and, if they're anything like me, our furry friends serve as unofficial muses. (Mind you, I'd be very surprised if Zeus ever answered any of my questions…) Who keeps you company while you write? Do they ever provide eureka moments?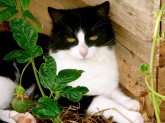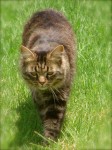 I have three fur-kids of the feline persuasion – Splat,  Pandamonium, and Furball. All take turns at keeping me company as I write during the day.
They even like to 'help out' by tromping across the keyboard – I strongly suspect though that they're trying totell me the food dish is empty or that it's time to let them go outside!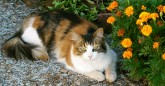 No Eureka moments yet, just lots of shedding fur,  rubbing of chins on the corner of the screen and trying to lap sit (three cats on one lap doesn't always work though!).
Oh, and I recently added a gryphon statue to my desk – the official author mascot and overseer of my work space (and a convenient place for the cats to get a cheek rub from his beak, although I don't think Gryph appreciates them doing that!).
I know you had a stellar career on the RWA contest circuit and consider the RWA to have been pivotal in publishing success, but it takes more than that. When did you decide to get serious about writing and pursue it as a career? Was there a catalyst?
Wow, another great question. Truly, rul-ey serious about writing? This is a long-winded, two-parter answer, Helene, so I'll save part 2 for your next question.
Part 1 – The wonderful Debbie Macomber was definitely a catalyst for my wanting to make writing a career. I heard her speak at a Romance Writers of Australia conference and she talked about goal setting – it was a huge "a-ha"moment for me.
Up until then I'd been serious but not career orientated about my writing. I was drifting and not actually setting tangible goals. I was waiting for "something to happen", not "making it happen" myself. There's a huge difference between the two.
So, goal setting became a habit. And I set short and long term goals. Once I did this, I began reaping the results. I also spent a heap of time researching agents and publishing house/editors.
The biggest decision after goal setting though was to take time out from my teaching job. I love it but, for anyone who knows teaching or a teacher, the workload can be rather time consuming, not to mention a time-suck (physically & creatively).
One of my long term goals (5 years in the planning) was to take a 12 month sabbatical from my the job in 2010. During this year, I worked my butt off using almost all of my spare time entering specific writing contests to get in front of certain editors, I had a submissions process of sending work out to agents, I built up a network of contacts and continued to learn the craft of writing taking courses and reading a heap of how to books.
Having taken that decision how did you go about making it reality?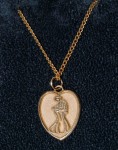 Part 2 – As I went into my 2010 sabbatical, the previous five years of work and effort – timing, events, goals reached – seemed to just click at the right moment.
2010 was the year I entered a handful of USA contests. Two of the most significant events included winning the paranormal section in the RWA Golden Heart contest and placing first in the WHRWA Emily contest for the paranormal section as well as "Best of the Best" (all first placed mss in each section were read and ranked).
The Emily put my work in front of Leis Pederson from Berkley as the prize for winning "Best of the Best". She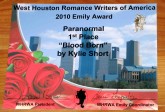 critiqued a partial, requested the full and in October Leis made an offer for the manuscript and eventually become my editor J).
As 2010 came to a close I'd just signed a 3-book contract with Berkley. I was due to go back to full-time teaching but decided to take another 12 months off to get my head around the publishing process. It's been a great year being able to focus entirely on writing!
In 2012 I'm returning to teaching, but only part time. It was a tough decision to make, (financially but I'm in a situation where I can make it work). Also some wise words from a friend helped me decide to go for it. She said "You don't want to spend the next 20 years regretting not having followed your passion. If it works out then all well and good, if not at least you've given it a go."
How long has that journey been?
From the day I first submitted a manuscript to an editor – 17 years.
But I really don't count the first 7 years of that process as I knew absolutely nothing about the publishing industry or the craft of writing and just waded my way through it blindly – I was so green and made every mistake in the book. Very cringe worthy when I think back on those years.
It wasn't until I discovered the Romance Writers of Australia in 2001 that I began to learn and understood what was involved. So, while the apprenticeship has been a long one,  I count it as a journey of many unfinished manuscripts, eight full manuscripts and10 years! J
No blog is complete without advice. What's the most memorable advice you've been given?
There's been a lot given over the years. Hmm, let's see…I think I might have to stretch this question out a bit and share advice that resonated with me over a number of stages during my journey…
Pre-publishing advice – "You can't edit a blank page." I can't recall who this comes from but it's oh so true! If you can't write the book then you have nothing to submit.
On getting THE CALL/an agent – "Do your research! Don't jump with the first offer. And DON'T be afraid to say no." This applies when negotiating a contract or finding an agent.
Post-contract advice – "BISFOK." Again, no idea who mentioned this but it stands for bum-in-seat, fingers-on-keyboard.
Couple it with, "Meet your deadline." (Yvonne Lindsay)
During one of her workshops at an RWNZ conference several years ago, Yvonne talked about being published and how you should always meet your contractual deadlines, no excuses. Being reliable and consistent earns you huge brownie points. It's something I've never forgotten.
What's next for you?
Other than promoting VENGEANCE BORN? J Well, this process begins again shortly with ALLIANCE FORGED, the second book in this series (coming out in July). It's very exciting to see two of my books being released so close together!
I'm also going through the editing process for Bk#3 in this series (it's due out in January 2013). And depending on celestial planets aligning, I hope to have news of a new contract shortly – fingers crossed.
While I'm waiting for all this to pan out I think I'll get on with writing the first in a science fiction romance series I started back in 2010 just before I sold VENGEANCE BORN to Berkley.
Thanks for having me as a guest on your blog, Helene! It's been a hoot and I loved answering your questions.
It's been lovely having you here today, Kylie. Our journeys have been very similar!!
To celebrate the release of Kylie's debut novel she's giving away an ARC of Vengeance Born. She foolishly left me in charge of the question 🙂 Because I'm a helpful soul I thought I'd ask for suggestion for the title of her third book! Kylie can choose so do your best. What do you think it should be? We' d love to hear your suggestions.
Kylie Griffin's obsession with all things paranormal/fantasy started at an early age, when she used to imagine the jacaranda tree in her front yard was a spaceship used to defend the world from invading enemies. Writing stories seemed a natural extension to her childhood adventures.

Today, she's a primary school teacher sharing her love for the written word with young children. In her spare time, she writes and reads all things paranormal.

Kylie lives in a small rural village in outback New South Wales, Australia, where she volunteers in a number of emergency service organizations in her local community.

Contact: kyliegriffin71@optusnet.com

Website: http://www.kyliegriffin.com

Blog: www.kyliegriffinromance.blogspot.com

Facebook: http://www.facebook.com/pages/Kylie-Griffin-paranormal-romance/152760788151938

Twitter: https://twitter.com/#!/KylieGriffin1

GoodReads: http://www.goodreads.com/author/show/4882841.Kylie_Griffin
VENGEANCE BORN blurb

There is no mercy in the demon realm. No escape. In this place of desperation and conflict, anyone who is not pure bred is virtually powerless. Until an unlikely champion is born…

Annika, half-blood daughter of the Na'Reish King, longs for more than her tormented life among her father's people. Conceived in hatred and bred as a tool of retribution, she's gifted with a special talent that can heal as well as destroy.

With the Na'Reish vastly outnumbering them, Kalan, a Light Blade warrior, knows the future of humankind depends on him alone. Incursions into human territory and raids for blood-slaves by the Na'Reish Horde have increased. As Chosen-leader, he faces the task of stopping the demons—and convincing the Council of aging Light Blade warriors that change is necessary for survival.

When Annika learns Kalan is a prisoner in her father's dungeon, her dream of escape seems within reach. She agrees to free him in exchange for his protection once they reach human territory. Now, marked for death for helping him, Annika must learn to trust Kalan as they face not only the perilous journey to the border but enemies within the Council—and discover a shocking truth that could throw the human race into civil war…