GW and I had a fantastic time in Foster visiting the wonderful Foster's Little Bookshop. A very big thank you to Jan and Bob for organising the evening. Graeme from Windy Ridge Winery shared his award winning wines and Catherine cooked up delicious treats.
After the chat Jan and Bob took us to the local Golf Club for dinner with some of the other guests. The conversation ranged across a hundred topics and there was even another bee-keeper there!
The temperature hovered around a ten degrees so it felt like we were back in England, especially when we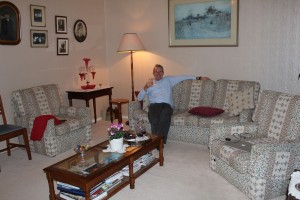 came home to Litchfield Lodge to find a toasty warm sitting room, a decanter of port and some yummy chocolates.
Saturday morning, Margareta Osborn made the drive from her home town a couple of hours away with her husband and daughter to catch up for a quick chat. I was only sorry we couldn't stay longer. It's always such a delight to chat to another author. Margareta is doing the author chat next Friday night – 20th July so if you're in the area drop in!
Back to work for me today but the warm welcome from Foster will linger. Thank you!