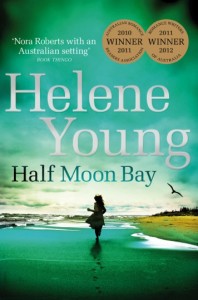 The 22nd of May is an auspicious day for me. I only knew one of my grandparents so Grandma Millett was  extra special. Born on the 22nd of May, 1897, she was a rounded, huggable old lady, with her hair in a braided coronet, who lived a full and active life until she was 97. Her birthday will always be a day filled with happy memories.
The flip side of that is my beautiful Dad chose May 22nd to leave us after 93 wonderful years so the day is tempered with sadness as well as love. (I'm convinced he arranged it so the day wouldn't be all about sorrow – he was that kind of guy.)
When I realised Half Moon Bay was being released on the 22nd of May I decided it was appropriate. It's a story of community spirit, of the ties that bind families, of the love we give unconditionally to those closest to us. It's set in a small coastal hamlet with many echoes of Currumbin Beach, the scene of my happiest childhood memories.
Half Moon Bay has some special older residents who hail from a gentler era, a more courteous time – I suspect retirees, Mavis and Ron, owe much to Grandma and Dad.
So today, thanks to a curve ball from the universe, I'm home in Cairns with Capt G and Zeus instead of flying out of Sydney. I'm going to enjoy every unexpected moment with them.
I wish Half Moon Bay a successful release day. I hope you all enjoy Nick and Ellie's story.