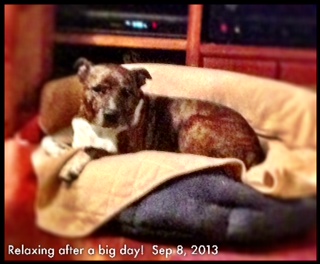 Well, howdy all. Since Helene and Capt G have decamped to  Narbonne and Manchester I thought I'd check in and let you know that I may have been left behind, but I'm in good hands.
I'm having a fabulous time at Just Walking the Dog with my new mates!  Love our walks each day and have to say I'm feeling sooo good – who knew fluffy white dogs could be so much fun 🙂
I have a little routine now – I have my day bed, my evening bed when we are watching telly, and then my beanbag for sleep time. I have to admit I love the view from my dinner table out on the balcony. It's such a peaceful spot and away from London, who is fed out the back. Sweet girl that she is, but she thinks we have to share our food. I was getting heartburn from eating too fast….
Rob comes & sits outside with me while I take my time dining.  The darling lady reckons I appear 'to be getting younger & more playful every day!' Who says I'm losing my charm 🙂
Anyway,  life is good here and I hope you're all well too 🙂