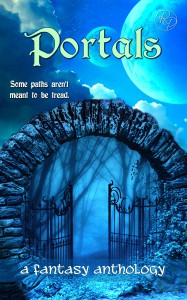 Do you love a vivid short story, a glimpse into another world, or another time?
Then PORTALS is for you.
This Fantasy anthology, published by Roane Publishing, will open the door to multiple worlds.  It will take you on an uplifting journey, break your heart and introduce you to Steampunk! What more could you ask for.
The authors have dropped by to tell me what inspired their stories so it's over to them. My good friend and fellow north Queensland, Havva, is the first cab off the rank.
(And don't miss the giveaway at the bottom of the post!)
Havva Murat:
I love steampunk/gaslight romance and I like harmless, bumbling idiots and scornful, damaged women. They all came together easily in this story. I've wanted to write a story about a clockwork heart for years and Evangeline came to me one day so I began to write. I started with her childhood and worked up to the point where she ends up at the Grimsby manor, but then decided to change tack. Bartholomew came after I'd already began writing about Evangeline and her clockwork heart, but his character was just as strong and provided a perfect foil for her damaged beauty. He was able to balance her nicely and breathe some gentleness back into her frigid frame and so the story was complete.
Michael Siciliano:
The cover of the anthology, to be honest. Look at it. It's very evocative. The moons, the mist, the skeletal trees, the twisting black iron gate in the background that may, or may not be, the gates around a cemetery, and the stonework of the circular portal. Just looking at it I feel the chill in the air, can see the mist crawling along the ground, and can hear the howl of … something … in the distance. Two moons loom over the night, alien and inscrutable, they watch and nothing more. I'd posit there's something more frightening than evil–distant, cold indifference. Take that setting, then throw in two plucky teenagers, too vibrant of spirit to be beaten down, and you've got yourself a story.
Echo Shea:
All of the authors were given a preview of the cover. Something about it seemed haunting to me and I definitely wanted to write a story that would fit that cover. That I was lucky enough to actually get to write for it and find such a cool main character still thrills me.
Anna Simpson:
I've always thought that the best fantasy stories start with a castle or a dragon, but this one started with a picture.
When I saw the portal, it looked old, and I could almost see the scratches on the lintel. They started me thinking of a gateway that slept until the two moons were aligned just so. An old legend could not completely explain the white stones around it or why travelers could only see the stones from certain angles. What kind of magic would create a gateway to another land? Dragon magic, old magic that ebbed away like the tide.
Life was changing for the kingdoms around the portal. The king needed a hero weak enough to be tossed through the gateway, strong enough to survive in an unknown land, and smart enough to know when to return.
Mexmur was all of those and more.
Christy Thomas:
All credit for this story goes to the imaginary character Lenox. I originally pictured the story strictly fantasy, with no romantic element at all. As I sat down to write my version, Lenox started pestering me, telling me that it wouldn't happen my way and all the reasons why the story went another way. Once I began to listen, I knew his version was more interesting and exciting. The minute I clearly saw the story, I cried because it was so powerful.
Laurie Treacy:
Amy's voice popped into my head one afternoon and I began writing. I based the development where she lives on one nearby (I use it as a frequent shortcut). Amy was walking with a friend I later named Remy and the opening scene was what first came to me. The idea of picking up vibes off of people and listening to one's instincts has always held a special appeal. When she first sees that strange man looking at the townhouse during the Open House she knows something is off about him, but will anyone believe her?
PORTALS is available now :




"No matter what world you call home, or what your station in life, there are just some paths that weren't meant to be tread."

Find the authors at :

Maronda's Quest by Christy Thomas

Mexmur, the Huntress by Anna Simpson

Entrance of Lost Souls by Echo Shea

Where Once were Hearts by Havva Murat

Ordinary World by Laurie Treacy

The Lunatic Queen by Michael Siciliano

Check out Goodreads:

https://www.goodreads.com/book/show/21887675-portals?from_search=true

Enter the Group Giveaway: $10 Amazon Gift Card & paperback copy of Portals

Click on the image to follow the PORTALS BLOG TOUR and go into the running to win more prizes!

Buy Portals at any of the sites below 🙂

Barnes and Noble (Coming Soon)
Kobo (Coming Soon)