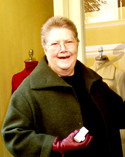 A sad day for Australian readers…
I first read The Thorn Birds in my early teens. It inspired me at the time and continued to inspire me when I finally sat down to write my first story. I've reread it many times over the year and the story never grows stale. Bittersweet is on my To Be Read pile and I will savour it even more knowing that this was Colleen McCullough's last story.
I'm sure I'm not alone in having felt the power of her stories. They will live on, a testament to her ability as a story-teller.
I hope Colleen's writing up a storm, sitting in a tranquil garden. She will be missed…