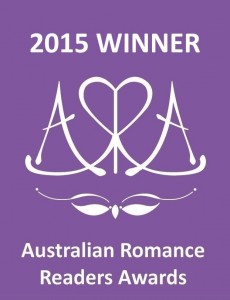 Congratulations to the Australian Romance Readers Association and its organising committee who staged another successful awards night at Cello's Restaurant in Sydney last Saturday. It's always wonderful to catch up with readers and writers and celebrate our genre in style!
Congratulations also to the winners:
Favourite Cover: The Horse Thief by Tea Cooper.
Strongest Heroine: Jane Chance in The Spring Bride by Anne Gracie.
Favourite New Romance Author: Kerrie Paterson.
Favourite Paranormal Romance for 2015 is Tribal Law by Shannon Curtis.
Favourite Sci-Fi, Fantasy or Futuristic Romance 2015 is Base by Cathleen Ross.
Favourite Short or Category Romance 2015 is Fire Me Up by Rachael Johns.
Favourite Historical Romance 2015 is The Spring Bride by Anne Gracie.
Favourite Contemporary Romance 2015 is The Patterson Girls by Rachael Johns.
Favourite Erotic Romance 2015 is Anticipation by Sarah Mayberry.
Favourite Romantic Suspense 2015 is Northern Heat by Helene Young.
Favourite Continuing Romance Series 2015 is the Chance Sisters series by Anne Gracie.
Favourite Australian Romance Author 2015 is Anne Gracie.
I was delighted that Northern Heat won the Romantic Suspense category and that super reader Len Klumpp was the presenter for this award! His lovely wife, Carolyn, also attended the evening.
As always my heartfelt thanks has to go to Ali Watts and Jo Rosenberg for their insightful editing and wisdom. I'm grateful for the support of the Penguin Random House team and also that of Clare Foster, my agent.
Graham and I have started our journey north for the winter months and I have some serious writing to finish. I do plan on blogging our sailing adventures more often than last year so hope to see you back for a visit!