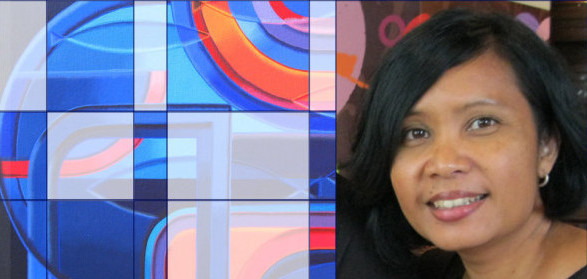 I've been privileged to follow the career of Australian artist, Tanya Sarianti Ashworth for many years. Anyone who's visited us will have seen her paintings gracing our walls and will have eaten from her beautiful ceramic bowls – even aboard Roobinesque!
I'm absolutely thrilled that Tanya's latest work has been preselected for the Brisbane Art Prize 2016. I wish I could be there on the night to support Tanya, but unfortunately I'll be in Adelaide at a conference. Details on the event are listed below so if you can go along I know all the artists would appreciate your support. 
Tanya's very kindly dropped by today to talk about the meaning behind "Handle with Care." So over to her 🙂 ( And check out her website at Sarianti Designs.)
"Wherever we are, we are surrounded by nature. Sometimes it can be obscured by concrete constructions and you only see snippets, and occasionally beautiful ones. Then at other times you may be swamped by an abundance of beauty. This can be clearly seen in Helene's many beautiful photos, taken as she sails around the coast of Australia.
In my painting, I have tried to portray these two aspects of our world.
The circle depicts the beautiful, natural world that we all delight in. All nature's creatures are allowed to live in the safety of their natural habitat. The world outside this circle is what we try not to let happen. Unfortunately the concrete jungle has taken over. Therefore the scene is somewhat barren and skeletal.
Because we are also living in a world which lacks stability and peace and is scourged by economic change and uncertainty I have purposely offset the circle. These are the thoughts which I have tried to capture visually.
So there you go – a visual novel. Take what you will from it. As an artist I leave it up to the viewer to make what they wish of it. As in Helene's many romance novels we all conjure up our own visual ideas of her characters. In my work the viewer has the chance to create their own short story.
Thanks again Helene for all your support and from one creative soul to many others, happy writing.
Tanya Sarianti Ashworth."