This month I've spent 16 nights out of 28 living out of a hotel room. Ask anyone who knows me and they'll tell you I'm a homebody and that amount of time away sits heavily on me.  My answer to the loneliness that can bite at unexpected moments is to create an alternative family where I stay.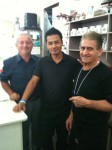 This is the team at the Airport Cafe in the base of the Stamford Hotel in Sydney. They are unfailing cheerful and happy – nothing is too much trouble. English in their second language so the odd miscommunication causes lots of laughter and some interesting breakfasts! The ladies who work the other end of the counter, making yummy sandwiches and salads, are equally wonderful, but they were too busy to pose for photos…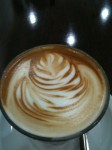 The other morning my coffee turned up looking spectacular. I had to take a photo – it was a work of art! And I smiled for the rest of the day at the extra effort they'd made! The cafe will never replace home and my saggy couch, and not so saggy husband, but they are familiar faces that brighten my day!