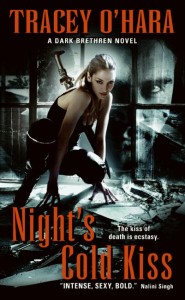 Welcome to Tracey O'Hara. She writes Dark Urban Fantasy with fast paced plots.  Her debut novel 'NIGHT'S COLD KISS' was released in 2009 to great reviews. DEATH'S SWEET EMBRACE is due for release January 25, 2011. They are part of her Dark Brethren series.
Tracey and I met when we were finalists in both the RWA 2007 Emerald Awards and then the 2008 Golden Heart awards.  We had a lot of fun in America at the conference with the rest of the 2008 Pixie Chicks.
Thanks Helene – and didn't we have such fun in San Francisco.
Tracey, Night's Cold Kiss is set in a fantasy world that's richly imagined and well constructed. What are the difficulties in building such a complex world? How do you go about doing that?
When writing historical – you have to stay within the bounds of history, when writing contemporary you have the laws of today. I'm not just talking about the cultural aspects either. Things like the law of gravity, nature and physics must be obey. But we know these. Or we can research them.
When writing fantasy people have the misconception when that it's your world – you can do what you like. Well, that is true to a certain extent. However, you must turn around and make up your own rules and then make sure you stick to them, keep them consistent throughout the book or series. For example – if were creatures are intolerant of silver, you wouldn't want to give them a silver belt buckle for their belt.
The biggest difficulty can be keeping track of all the rules. Developing a detailed glossary of terms and organizations helped with me this. But really, the way it works for me is that the world already exists fully formed and I am like an explorer discovering and uncovering its richness as I go along. Still I have to play within the boundaries I have set.
Your work is described as Dark Urban Fantasy. For the uninitiated, what does that mean?
These days Urban fantasy is a term that used to describe a range of genres. But what is common is that it in a fantastic story in a city setting be it contemporary, alternate history, futuristic or other worldly setting as long as it is in an urban environment. Usually these stories are rather dark and gritty. Some television series that would fit the mould would be BEING HUMAN, SUPERNATURAL and TRUE BLOOD based on Charlaine Harris's Southern Vampire series.
Most UF these days have a heavy paranormal, supernatural or fantasy element to the story. Quite a few have a female protagonist and quite often told in first person. Sometimes UF and Paranormal Romance are mixed up as the crossover can be quite blurred—the difference is an often debated topic. There are also UF series out there with male protagonists – some example of these are the DRESDAN FILES based on the wizard PI, Harry Dresdan, by Jim Butcher and SANDMAN SLIM – the hard boiled hitman from hell by Richard Kadrey.
What novels, movies or writers have inspired you?
Wow – so many. Too many. Writers – inspiration –Stephen King; Raymond E Fiest; Anne McAffrey and George RR Martin. Presently Vicki Pettersson; Brom; Jocelynn Drake and Pamela Palmer. On DVD I'm enjoying TRUE BLOOD and BEING HUMAN and ZOMBIELAND. Movies – I loved AVATAR even with its simple story, Loved THE LOSERS and so many more i can't pick favorites, but I'm definitely an action movie kinda girl.
Tell us about you second book DEATH'S SWEET EMBRACE.
This is the second Dark Brethren novel and follows a new heroine Kitt Jordan, a snow leopard shape shifter who has recently had her entire world turned upside down. Her brother was recently murdered, she quit her job as the chief medical examiner, her estranged family has found the children she gave up at birth and her ex-lover has just shown up. And while all this is going on, a sadistic killer is slaughtering young parahumans.
We do still get to follow some of the characters from the first Dark Brethren novel like Antoinette and Oberon, but this is essentially Kitt's story.
I love your prequel short story for NIGHT'S COLD KISS. Have you got plans to do that with future books?
Thank you very much, and yes – I'm intending to release a short story from my website one or two months before the release of DEATH'S SWEET EMBRACE.
What's next in line for your writing? A third Dark Brethren story?
I'm currently working on SIN'S DARK CARESS, the third Dark Brethren novel. I must say I am enjoying this book. I can't say too much about it as yet, and again I am hoping to release a short pre-story for it comes out.
You've recently joined The Supernatural Underground which looks like a fascinating group of writers. How hard is it maintaining an on-line presence while juggling writing and a full time career?
The Supernatural Underground is a fantastic group of friendly and talented woman and I have had a great time being part of it.
But sometimes it can be pretty difficult juggling everything. Not only is there the day job and writing, there is also promotion work and more importantly time for my family. At the moment I am trying to come up with a schedule to balance all these elements. My husband works week nights k– so I am trying to do all my writing while he's at work so we are able to do things together on the weekends. My children are old enough to lead their own lives, but I still want to spend time with them too. So it is a matter setting priorities.
What tips do you have for aspiring writers?
Keep writing, keep learning and keep submitting.
Good advice, Tracey! I'll be cheering you on at the conference when they announce this year's winner of the Ruby Award. Being nominated is such wonderful recognition of your talent!!
Thanks so much for visiting and I'm looking forward to Death's Sweet embrace 🙂
Tracey O'Hara

I was born in Australia – Launceston, Tasmania to be precise, but actually grew up in North and Far North Queensland. My family is very supportive of my writing. They encourage me to keep writing and pursuing my dream.

I discovered a passion for writing in March 2004. It started after doing some research into my family history. A story came into my head, screaming to get out, about an Irish girl who works for an English captain as a governess/nanny for his children while their mother is very ill. Set in Australia in the early 1820s.

But as I started to plot the story, another one emerged, which was much stronger. It involved the sister of the girl in the first story, who gets raped on the voyage out to Australia and falls pregnant. I wrote 120k in about 4 months – the story flowed out like molasses on a hot day.

This was before I learnt anything about writing, and I followed every bad writing practice known, making every writing mistake. But everyone loved the story – even if it was badly written. So I figured that I am more a story teller than a writer – so now I must learn to write. Now I am writing Dark stories, Dark Urban Fantasy to be precise.

In August 2004 I joined RWA and started to get involved with the Canberra group meetings. I haven't looked back. I joined RWA America early 2005