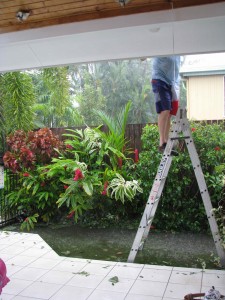 Yasi's tail had the sting. This afternoon we had 140 millimetres of rain in three hours. The street turned into a raging torrent.
The gutters on the house behind were full of storm debris and so were ours. The water overflowed, filled their yard, and then ours. It took us two hours to clean the gutters out and by then the water was lapping at our doorways. For another two hours we used brooms to keep the water under control and once the rain stopped the level gradually drop.
We're both exhausted now, but at least we're dry and, unlike others to the south of Cairns, our house is still undamaged.  I've just had the most physical four hours I've had in a long time – no gym work out comes close!
I'll need a very strong coffee before I chat with the BBC radio shows tonight although, as the phones are only working intermittently at the moment, chances are they won't get through. It is a little surreal being dropped into drive-time radio in the UK…
Time for a hot shower now. I suspect Yasi hasn't finished with us yet.