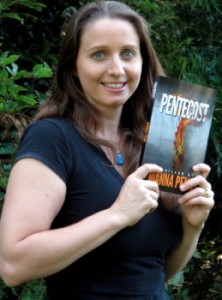 My brother recommended I should check out the Creative Penn website. When I did I was amazed. Joanna Penn, author, blogger, speaker and business consultant, happily shares her knowledge free of charge. Her advice is gold-plated and I learnt a great deal about using the web to promote my writing. (Unfortunately, there's a lot more I haven't had time to put in place yet, but it's there for later!)
'Pentecost', Joanna's first foray into fiction, is a thriller with a global setting. It hit the shelves on the 7th February both in e-book format and traditional print and is available from Amazon and other online retailers. I'm delighted to welcome her to my blog today to talk about her writing journey and why she took the approach she did.
Joanna, welcome and thanks for taking the time to drop by. Was writing something you've always done or did this passion evolve from a previous career?
Thanks for having me! I am a business consultant as my day job so I have spent 13 years in business writing but I have always journaled and written a lot in my spare time. Like many people, I felt that I couldn't write a book because of self-belief issues but it was always a dream so one day, I decided to just get on with it! My first book was non-fiction and focused on career change for people who hated their work (it's surprisingly common!). Along the way I helped myself and started my blog in order to help others on the writing and publishing journey. In 2009, I finally found the courage to write a novel. I love action-adventure movies and have a degree in Theology so I combined the two. Pentecost is kind of Dan Brown meets Lara Croft!
Your approach of sharing information so freely is very unique. What prompted you to go down that line?
When I published 'How to Enjoy Your Job' in early 2008, no one bought the book. Basically no one knew I existed. This is the plight of many authors, even those with a publishing deal. There are millions of books out there. Why should people buy yours? After that crushing disappointment (!) I decided to learn about marketing and started the blog in order to share what I learned with others. I really want to help other people avoid the heartache, time and expense that I went through!
The concept of giving information away for free in order to attract attention is called 'content marketing' and it's a way to stand out from the crowd. If people find you through a blog search or with a question, they may read your article, watch your video or listen to your podcast. They start to form a relationship with you and begin to know, like and trust you. Then when you have a book out, they are far more likely to buy it than if you had no audience at all. So that's the marketing angle.
But actually I find my blog and my podcast to be intrinsically rewarding in themselves. I love to share and be useful. It makes me happy. So I started blogging in order to sell, but now I do it out of love (although I definitely sell more books and products this way too!)
Writers are quite often time poor, juggling day jobs to pay their bills as well as trying to get their stories down on paper. What, in your opinion, is the single most important promotional tool they should use? Social networking, website, blogging? And why would you choose that tool?
I work 4 days a week as a business consultant so I understand the time pressure! I think as a basis you must have a blog, which is just a website that's easy to update and maintain. You need your own presence on the web because Facebook could go down, or Twitter sell out or these other sites can disappear. But your home on the web is yours, you control it and you can talk about what you like on it. That's definitely the starting point. Then you can think about getting traffic to the site which is where the other sites come in. I love Twitter (I'm @thecreativepenn) and I also have a podcast on iTunes, a video channel on YouTube and Facebook page etc but all these things can be done AFTER your main hub.
You've self published several books now.  How has that process changed during the time you've been producing your books? Was self-publishing fiction different to self-publishing non-fiction?
The process is the same for any type of book. What has changed in the last 3 years is that ebooks have pretty much gone mainstream. Many authors are skipping print books altogether because they sell 10x or more in ebook versions than print. With bookstores going bankrupt and changing publishing models, I may skip the print version altogether with the next book. I also started out doing everything myself but now I use freelancers which has improved the quality of cover design, formatting and editing.
Pentecost has a fantastic story line. Where did the idea begin? Was it a love of all things ancient or a fascination with dark religious secrets? How did you go about researching it?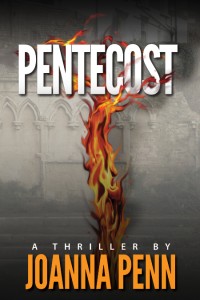 I mentioned I have a Masters degree in Theology from Oxford University so that was always a starting point. I have always been fascinated with the spiritual and supernatural and have traveled widely in Europe and Israel learning about these things. I also read these types of books voraciously and it's important to write what you love! I wanted to start with a biblical angle and then go off on a tangent into an area that wasn't covered but could still be plausible. The idea for the Pentecost stones themselves came to me in St Mark's Basilica in Venice. I write the scene in the book describing the Pentecost mural on the ceiling. I wanted to include incredible locations as well and am already plotting the next in the series, Prophecy!
Here's the back cover blurb –
A power, kept secret for 2000 years.
A brotherhood, broken by murder.
A woman who stands to lose everything.
When Jesus of Nazareth rose from the dead, the apostles took stones from his tomb as a symbol of their brotherhood.
At Pentecost, the fire of the Holy Spirit empowered the stones and the Apostles performed miracles in God's name. Forged in the fire and blood of the Christian martyrs, the Pentecost stones were handed down through generations of Keepers who kept their power and location secret.
Until now.
The Keepers are being murdered, the stones stolen by those who would use them for evil in a world transformed by religious fundamentalism. Oxford University psychologist Morgan Sierra is forced into the search when her sister and niece are held hostage. She is joined by Jake Timber from the mysterious ARKANE, a British government agency specializing in paranormal and religious experience.
From ancient Christian sites in Spain, Italy and Israel to the far reaches of Iran and Tunisia, Morgan and Jake must track down the stones through the myths of the early church in a race against time before a new Pentecost is summoned, this time powered by the fire of evil.
Thanks for giving us an insight into your writing, Joanna. Your website is a fantastic resource for writers and you're on my must read blog roll.
All the very best with Pentecost!