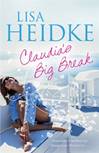 Lisa Heidke very kindly agreed to tee up an interview with Claudia whose story she told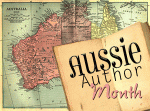 in Claudia's Big Break. I was a little nervous as Claudia seems to me to be the consummate party girl and I'm always a little in awe of women like her… But she was lovely, so here's what we talked about. Please welcome Claudia.
Let's start with the Vital Statistics, Claudia.
What's your star sign?
Gemini – June 9. I manage to keep my wicked twin under control most of the time but occasionally she escapes and I often don't realise until it's too late.
Oh I know that feeling. I've got an evil twin as well…
Your favourite music (and it can be karaoke…)?
It used to be Mustang Sally but now, I can't listen to that song without remembering what happened at the Goondiwindi B&S. (You'll have to read the book to get the full story.) My favourite song at the moment is Happiness by Alexis Jordan because I am in love err, lust.
Funny how music can be so tied up in a moment!
What's your favourite movie?
Hmm, because I am a romantic at heart, I'll say Notting Hill and My Best Friend's Wedding.
My husband watched Notting Hill five times in a row on our last flight to the UK… I can never look at the movie in quite the same way…
Your favourite drink?
Definitely not Retsina! While I was in Greece I became partial to a Santorini Sling which is a heady mix of vodka, tequila, lime, raspberries and soda…though it doesn't taste the same back home in Bris-Vegas!
Ok here comes the more difficult questions. Red Hill is a fabulous old suburb. What do you love about living where you do in Brisbane?
I'm still living in Tara's house at Red Hill and it's great. Everything is nearby…the city, parks, shopping and my favourite deli and cafe! Am hoping Tara never asks me to leave because I tend to think of the home as mine.
Are you a dyed in the wool Queenslander? If the answer's yes what makes Queensland special?
Yes! I was born at the Mater, went to Loreto and then Queensland Uni. Brisbane feels like a big country town. It has a relaxed vibe. I can't see me ever leaving. Plus, Noosa is only an hour and a half away.
Oh yes! The sunshine coast and Noosa – divine!!
You obviously love exotic holidays. Does one stand out from the rest and why?
Definitely Santorini! Why? You'll have to read the book!
Did you go through any angst when you turned thirty or is turning forty more daunting?
Probably forty because I'm ten years older! When I turned thirty, I kept thinking that time was on my side. I didn't have to act responsibly or always be sensible. As a forty year old, my wicked twin, who also has the morals of an alley cat, can't continue to get away with as many of the shenanigans she's been up to in her twenties and thirties.
The only good thing about turning forty, is that I finally have my hair (and Tara!) under control.
What do you value most in a friendship?
I value honesty, loyalty and trustworthiness. Although, sometimes my friends can be too honest and forthright. Still, I guess I needed a good talking to in Santorini and both Tara and Sophie were able to do the job because we have been besties forever and they know me as well as I know myself.
Besties are vital for women, aren't they? They know what we really mean even if we don't ourselves.
If you could have any career in the world what would it be and why?
Hmm, I'm still finding my way with that one! I loved the job I had at Riesling Renaissance organising food and wine events – except for the time when a celebrity chef who, absolutely plastered, attempted a live cooking demonstration and his hand got caught in the electric mixer. I'm not fond of blood!
Clearly your holiday in Santorini was life-changing (and the readers will need to read your book to find out how). What do you hope to achieve with the rest of your life?
Helene, I'd like to find true love! Even though I am independent and having a satisfying career is important to me, the idea of meeting someone and falling in love is on my mind. As I said earlier, I am in lust at the moment, so we'll see where that goes.
As readers would know, I've had several disastrous relationships but I haven't closed the door on marriage and children. If only I hadn't left my tarot cards in Santorini – I might know the answers to several questions I've been asking myself!
I have also started back at the gym, one day a week, and would like to keep that up but its Winter and snuggling under the doona is far more appealing!
Lol, getting out of bed if there's someone warm under that doona to cuddle is very hard to do indeed! Thanks so much for chatting to me today, Claudia (and Lisa)!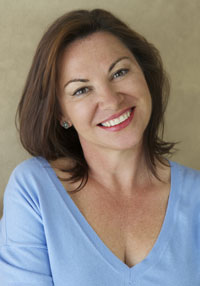 Other books by Lisa Heidke are 'What Kate Did Next' and 'Lucy Springer Gets Even'.

She's published by Allen and Unwin and you can find her at