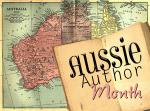 Today's blog interview is with Jodie Cramer. Her story, as told byJaye Ford, can be found in Beyond Fear. It's a psychological thriller, set in Australia, and will keep you immersed in the story right to the last page.
Having survived a vicious attack as a teenager Jodie has shown remarkable resilience in keeping her world in order. Here's her interview.
Jodie, thanks for agreeing to be interviewed. I know it's a difficult time after what you and your friends have been through at Bald Hills so I'd like to talk about your earlier attack and how you've become the woman you are today.
Recovering from any sort of attack is difficult and you showed great strength in rebuilding your life as a seventeen year old. What strategies did you use to achieve that?
My parents found me a psychologist straight away, which made for a good start. I was having nightmares and flashbacks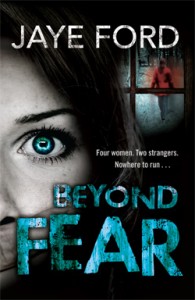 and worried about going out alone or in the dark. I didn't take up my place at uni, stayed close to my family home and gave up the sport I'd always enjoyed. The psychologist suggested getting fit again could help me feel less powerless.
The running was the start of getting on with my life. It cleared my head and made me feel stronger. I got back into hockey and started self-defence training. That made me feel more able to face whatever might come at me out of the dark. After that, I wanted to know how to handle any situation. I did defensive driving training, learnt how to ride a motorcycle, studied the Israeli hand-to-hand combat technique Krav Maga and joined a gun club.
It's not how everyone would do it and some people believe my focus on self-defence is a sign I haven't moved on but it makes me feel safe and strong and you can't beat that.
How did family and friends treat you after the attack on you and Angela? How did Angela's family react to you?
The first days were awful. My family was shocked and upset about Angela and worried for me. Later, no-one really knew how to behave with me. I was in grief and anxious and I guess they didn't want to talk about it in case I couldn't handle it.
Angie's parents came to see me and asked what happened. Her Dad was angry and her mum cried through the whole story. About a year later, it all fell apart for them. They separated and their other daughter went off the rails. I always felt partly responsible for that. If I'd been able to save Angie, maybe three other lives wouldn't have been destroyed.
What motivated you to become a teacher?
It was the sport. I knew how much it had done for me and I wanted others to have the chance to experience that – and to learn that being physically strong and fit is a life skill. Once I was in the school system, I realised there was an opportunity to teach young girls the self-defence skills I wish I'd had as a teenager.
When you first met the man who would become your husband did you confide in him about what had happened to you? How did he react? How do you think it contributed to your relationship issues?
Telling the story is always painful and most people jump to their own conclusions about me once they've heard it so I don't talk about it unless I have to. James and I had been friends for years but it wasn't until we got together as a couple that I told him about it. I figured he should know before he saw me naked or the scars might freak him out.
He was great and wanted to help me with my post-trauma issues. It was why we worked at first and also why we didn't. I loved his gentleness but after we had Isabelle, it felt like slackness. He never took to heart that trouble can happen at any moment, from any direction, even though I had the scars to prove it. And when I felt the need to compensate for him, he would accuse me of relapsing into Post Traumatic Stress.
I don't blame him for the breakdown of our marriage. I know I'm difficult to live with and the relationship issues are all mine. It's hard to trust someone when they don't have the same level of caution as me.
Once you started a family it must have been difficult resisting the temptation to wrap your children up in cotton wool to keep them safe. How did you go about ensuring they could live a normal life?
I believe the best thing I can do for my kids is teach them to be fit and strong and have enough self-worth to defend themselves. I don't want to wrap them up in cotton wool because that won't teach them to deal with the tough stuff life throws – and believe me, it throws some doozies.
Do you think there will ever be a time when you won't be alert and wary? How hard is it to relax?
I don't have a problem with being alert and wary. I know other people think it's not a great way to live but it's the only way I know. And that night up at the barn proves that alert and wary is worth it.
And relaxing – exercise does it for me. A good run burns off excess energy, makes me feel strong, clears my mind and gives you that fantastic spent feeling.
What advice do you have for young women today wanting to ensure their safety?
Trust your instincts. If you're frightened, then there's probably good reason and its better to err on the side of caution than wait until it's too late.
And believe that your life is worth defending. Many women are uncomfortable with aggression, but your attacker won't be holding back – so you better not either.
And on a lighter note what's the secret to cooking your perfect steak?
So glad you asked this – it's my only domestic tip! Good quality steak, a hot frypan, turn only once, remove from the pan a little under-done and leave it to sit five to ten minutes. Best enjoyed with strong mustard, a nice red and good friends.
Jodie and Jaye, thanks so much for spending some time with me. I appreciate it and wish you both every success with the future.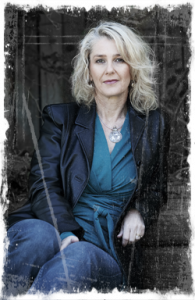 Jaye Ford is a former news and sport journalist. Before chasing her dream to become an author, she worked in newspapers, radio and television for twelve years in a variety of roles, including reporter, sub-editor, news reader and TV presenter.
In 1988, she became Australia's first female presenter of a live national sport show, hosting Sport Report on SBS. She later fronted evening news on regional television.
After leaving the media, she ran her own public relations company for six years.

BEYOND FEAR

Imagine if your worst fears came true. . . Again.

At seventeen, Jodie Cramer survived a terrifying assault at the hands of three strangers. Her schoolmate Angie was not so lucky…

Now thirty-five, Jodie is a teacher and mother of two – and her past is a horror she's buried deep. When she sets out for a weekend in the country with three friends, all she has in mind is a few laughs and a break from routine.

However, unknown to the four women, their secluded cabin was once the focus of a police investigation and, like Jodie, it nurtures a dark secret.

As her friends relax, the isolation reawakens Jodie's terrifying memories. When she finds evidence of trespassers, she is convinced they are being watched.

But no one will believe her and as her past threatens to overwhelm her, she begins to doubt herself – and her sanity.Until two men knock at their door …