There's been trouble in paradise. The bees have packed their bags and flown the hive. We're not sure why, but apparently we're not alone, it's happening all over the north. Swarming, the official term for heading off in a huff, is reasonably common. It's where a break away group fly away to set up a new hive, but this time our Queen headed off as well. That's a little more unusual…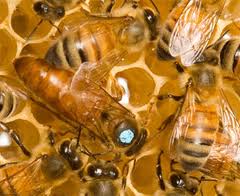 When Jack and I checked the hive there were still a large number of worker bees left so we did what any good honey lover would do and ordered them a new queen (no republicans in this house!). Yesterday she arrived, complete with entourage. She also comes with a tiara – well a blue dot on her head anyway – and travels in a white carriage.
Since Jack is almost 90, and I'm not as strong as I think I am, we had to enlist the help of GW who rather reluctantly donned many layers of clothes, a veil and gloves so he could provide the muscles. To put the queen in you have to pull the hives apart to get to the lowest layer or brood chamber. An average box with 9 honey frames weighs in at 20 to 30 kgs and is a little awkward to lift.
The worker bees were most perturbed at having their home torn apart but, being sociable insects, give them a few days and they'll hopefully all be friends and happily beavering away for their new queen. We look forward to more honey.