Ever heard of clogging?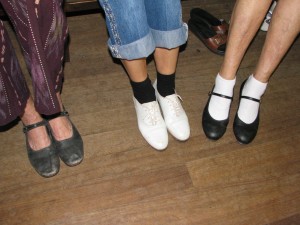 Up until last Tuesday night I hadn't either, but now not only is it in my vocabulary, but I've been clogging and loved it!
Who knew I had any rhythm in my feet at all. I was always the one going left in aerobics when the class was going right – ask Albertina… I've always envied people who crowded onto a dance floor and look like they belonged there.
I'm a teenager of the '80s so discos caused me more than my fair share of angst. Flashdance and Jennifer Beals hit the big screen as I turned twenty, adding more torture due to my defective dancing gene.
But after last night? It seems I may have simply been trying the wrong style of dance.
Noisy boisterous clogging may just be for me.
Here's a link to a flash crowd clogging in Newcastle in the UK. (Just ignore the advert at the start – BBC UK is not going to let us get away with watching their content for free…)
http://www.bbc.co.uk/news/magazine-11930057
It seems clogging is being claimed by a few countries as their national dance. I'm not going to enter that debate however here's the link to Wickipedia – clogging. You decide!
Meanwhile, if you thought you also have two left feet, give it a go! Clogging works for me 🙂
Australian clogging : http://www.cloggingaustralia.com/