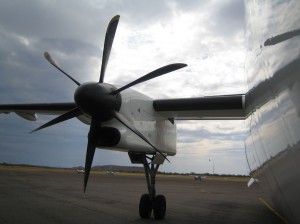 With the reliability of modern aircraft, advanced engineering systems, and components that are replaced long before they wear out most airline pilots will never experience an engine in-flight shut down in their careers.
We spend a lot of time planning for that eventuality – completing emergency procedures training, and flying flight simulators where we deal with emergencies and abnormalities right through to landing with only one engine operating. The training has to be rigorous and exacting because there will be no second chance in real life.
Yesterday I had to put that training into action when a malfunction in one of our engines meant we were required to shut it down on descent to our destination. For any nervous flyers out there I can now personally reassure you not only does the training work but when the captain says in their PA 'This aircraft can comfortably fly on one engine' they aren't lying. The aircraft does perform as the manufacturer claims (even better, I suspect!!) and some of our passengers didn't even notice we'd shut one down until I made my PA and woke them up!
I had a fantastic team with me both in the air and on the ground. Thanks guys, you were exemplary.
While this particular incident isn't going to end up in a story any time soon, the way my body felt, the adrenalin rush, the clarity of vision, the colour of the world around me, may do. It's easy to forget that we are pre-programmed by genetics to react to threats by our 'flight or fight' response. The role of good training is to keep that response focused on the job at hand. All that makes great fodder for a writer's devious mind 🙂