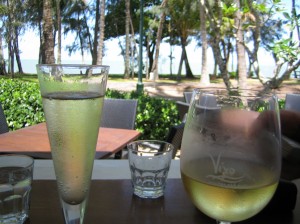 November is a busy month for birthdays in our family. My niece, my nephew, my husband, my sister-in-law, my honourary little brother and two good friends are all November babies. I'd be lost without my iCal to remind me of all these milestones. I'm sure I'm not the only one guilty of remembering a birthday weeks before it, only to forget to ring on the day. People who are closest to us are often the ones we take most for granted and yet they're the ones we should cherish most.
Today is hubbie's birthday and in a couple of hours I'm heading to Sydney gearing up for a simulator check tomorrow. Unfortunately I've been absent for a few of his birthdays over the years with work commitments. (I'm missed a couple of my own as well, sitting in hotel rooms wishing I was somewhere else…) He's now in countdown mode to 'retirement' at his next birthday so I'll make sure I'm around for that one!!
Yesterday we celebrated early with lunch at Palm Cove. The Coral Sea shimmered in bright sunlight and a warm breeze reminded us summer is most definitely here. We spent a lovely lazy afternoon chatting, relaxing and enjoying being together. Sometimes the most beautiful of days are the simple ones.
Happy birthday, GW, wish I was home with you and Zeus. (And I hope you've worked the iPad out by the time I get home on Friday 🙂 )