Today's blog guest is one of the few bloggers I visit religiously. Her posts are funny, sassy, informative and relevant, plus she has a stellar line-up of visitors.
Please welcome debut Carina Press author Rachael Johns who's novel ONE PERFECT NIGHT is about to hit the shelves!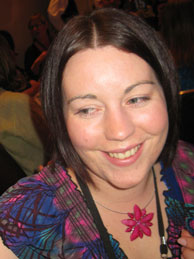 So Rachael, to blog or not to blog… What was the tipping point for you? When did you decide you were going to become a regular blogger?
I had to actually go back and look at my first blog post to work out the answer to this question because I really couldn't remember what made me decide to start writing a blog and unfortunately I must have had a blog before the current one that I can't even remember (see how organised I am), because the first post I ever wrote was about choosing a pseudonym and changing to my new blog. But I think there were a few reasons I started. One, I wanted to get an online presence, so that when I sold a novel, I'd already have a place where I was known. Two, I loved reading a number of blogs and commenting and I wanted in on the fun. Three, I wanted to document my writing journey. My blog is mostly about the highs and lows of writing and my experiences writing my books, going to conferences and reading.
I think you've achieved all three of those, Rach! (I should have asked a question about pseudonyms since so many writers use them – maybe another blog topic!) How did you go about setting up your blog?
I looked at both WordPress and Blogger and at the time, decided I liked Blogger better. Now I'm not so sure and am seriously thinking of switching my blog and website to WordPress hosting soon. It's easy to set up a free blog and I think if you're just beginning writing or don't have a contract yet, it's a nice in-between before organising a website. Having a blog gives you a web presence. All you do is go to www.blogger.com or www.wordpress.com and follow the sign-up links to create a new blog.
I use WordPress and for the most part it's easy. Unfortunately from time to time it defeats me and I have to call on the techs…)
You have some wonderful ideas. How do you decide what topic you're going to blog about? Having decided the topic what sort of research do you do?
Thank you, I'm not sure I agree, but thanks. J I'm continually looking out for and thinking about things that would make good blog posts. I have a little notebook near my computer where I write down possible blog post ideas. Often while hanging the washing, I'll think of something – it's often a problem or opinion I have about writing or something to do with writing. I don't do a lot of research for my blog posts, rather put forward my thoughts and opinion on something and try to get a discussion going by asking other people to comment and share their ideas.
One of my favourite blog posts was my post about Second Hand Bookshops – it turned into a bit of a debate on whether they were good or bad things for writers. The post is here if you'd like to read it: http://rachaeljohns.blogspot.com/2011/10/truth-about-second-hand-bookshops.html The best thing about this post is that I was enlightened by the commenters about other ways to look at Second Hand bookshops, which I'd previously been adamantly against. It's always good to get comments from both readers and writers to get both sides of a debate as well.
I have a regular spot called "Theory on Thursday." This started because I love craft books but don't actually usually read much of them. I wanted to know what craft books other people couldn't live without, so I started by inviting friends on the blog to talk about their favourite writing craft books. From there, the segment has grown – I've had guests I met on Twitter and Facebook as well and the topic isn't limited to craft books, although it's still about the theory side of writing.
The post on second-hand book stores is fascinating. I've always been a believer in the 'any reader is a good reader' adage but I can see other angles as well.
How do you measure your blogs effectiveness or appeal?
I LOVE it when readers comment – this always gives me such a thrill (similar to getting a letter in the post) – and this tells me people are reading the blog. However, I also use StatCounter (www.statcounter.com) which tracks visits to my site and lets me see how many people pop by. This number is always a LOT bigger than the people who actually leave comments, so that's very reassuring.
I must admit to once wondering if blogs, Twitter, etc were affective avenues for increasing readership and promoting a book, but now I strongly believe they do. I had Shona Husk (www.shonahusk.com) as a guest for Theory on Thursday a while back and then a lady on Twitter told me she'd bought Shona's book because of her guest post. This woman hadn't even left a comment on the actual blog.
I'm always fascinated by what blogs generate comments. Sometimes the most innocuous rushed post gets swamped then something I labour over for hours has a large number of visitors but only my loyal stalwarts comment. Wonderful to hear your blogs work through the twitter connection as well!
How much time do you spend preparing a blog?
That depends on how long it is. I type and think quickly, so the blog posts I write myself often don't take longer than five to ten minutes. The ones that take the longest are actually the guest posts, because then I have to take quite a bit of time formatting and placing the photos, etc in good spots.
Social media is almost an integral part of a writer's life in the twenty-first century. I know you're active on Face Book, twitter as well as maintaining your blog. How do you prioritise?
I'm very erratic in all three places unfortunately. Bob Mayer said at the recent RWAus conference that for a blog to be affective you really need to update at LEAST once a week but three times was better. I aim to follow Bob's three-times-a-week rule but often only succeed at twice. As for Facebook and Twitter – I've learnt to treat them a bit like a party. Don't stress too much about keeping up but go in when I can (once or twice a day) and see what's happening. While I there, I respond to what I can. I also make sure to check my mentions at least once a day and always respond when someone has Tweeted me. And I used Tweetdeck lists to make sure I don't miss anything important from good friends or editors.
I find I can do things like write a blog post and check-in on Twitter and Facebook when my surroundings are NOT conducive to writing. So I squeeze these things in odd moments and try and use my longer chunks of free time (LOL) for actual book writing.
What is the best piece of advice you've been given about blogging or advice you'd like to share?
Aside from Bob's three-times-a-week rule, I'd say the best thing I've ever been told is to try to get the readers to interact by asking them questions at the end of a blog post. And I'm also VERY careful to reply to blog comments. Nothing annoys me more than authors who blog and don't respond to their reader comments. It's a pet hate of mine J
Now, following her own question rule, Rachael has a question for Helene's readers:
I visit a fair few blogs on a regular basis. I have my favourites but would love to hear what blogs YOU CAN'T LIVE WITHOUT???
Thanks so much for having me Helene. I LOVE your blog and your books J
And thanks for being such a wonderful guest, Rachael! Congrats on your new release and can't wait to read it!!
ONE PERFECT NIGHT:

Peppa Grant's fellow employees may call their new CEO Mr. McSexy, but she's also heard that he's aloof and distant.Cameron McCormac certainly seems cold toward Christmas when she meets him at the company's annual party…but he's also the sexiest man Peppa has ever seen. And when he offers to forgive the damage she accidentally caused to his expensive car in exchange for accompanying him to his family's holiday get-together, she agrees.

Cameron needs a date to the family party to get his matchmaking relatives off his back. Their chemistry is instant and undeniable, leading to an incredible one-night stand. But Peppa wants love and family, while Cameron's only interested in temporary pleasure. When their relationship takes an unexpectedly serious turn, will he run the other way—or will he give love a second chance?

Author Bio

Rachael Johns is an English teacher by trade, a mum 24/7, a chronic arachnophobic, a supermarket owner by day and a writer by night. She rarely sleeps. Rachael received The Call from Angela James telling her Carina wanted to publish her book on April Fools Day and, when she told her friends, half of them wondered if it was a big joke. Luckily it wasn't. As an active member of Romance Writers of Australia, Rachael has finaled and placed in a number of romance writing contests. Each success is uplifting and publication is her dream but even if none of this happened, she'd still write. It's a much better option than ironing, which she refuses to partake in. Ever.

Find Rachael at

Facebook:   http://www.facebook.com/pages/Rachael-Johns/260103224001776

Twitter:  http://twitter.com/#!/RachaelJohns @RachaelJohns

Blog:  http://www.rachaeljohns.blogspot.com/

Website: www.rachaeljohns.com