That intangible thread of connection between mothers and daughters and sisters is never more apparent, nor precious, than at Christmas time. I made a flying visit to Mum on my way home from Sydney (and yes that was a deliberate attempt at humour :-)) to deliver presents and to give her a hug. The flight was delayed out of Sydney and into Brisbane and I have to admit that my Christmas spirit was missing in action… I fronted up for my hire car to find AVIS have moved and are now located deep in the bowels of the new carpark. I finally found them and followed directions to my car.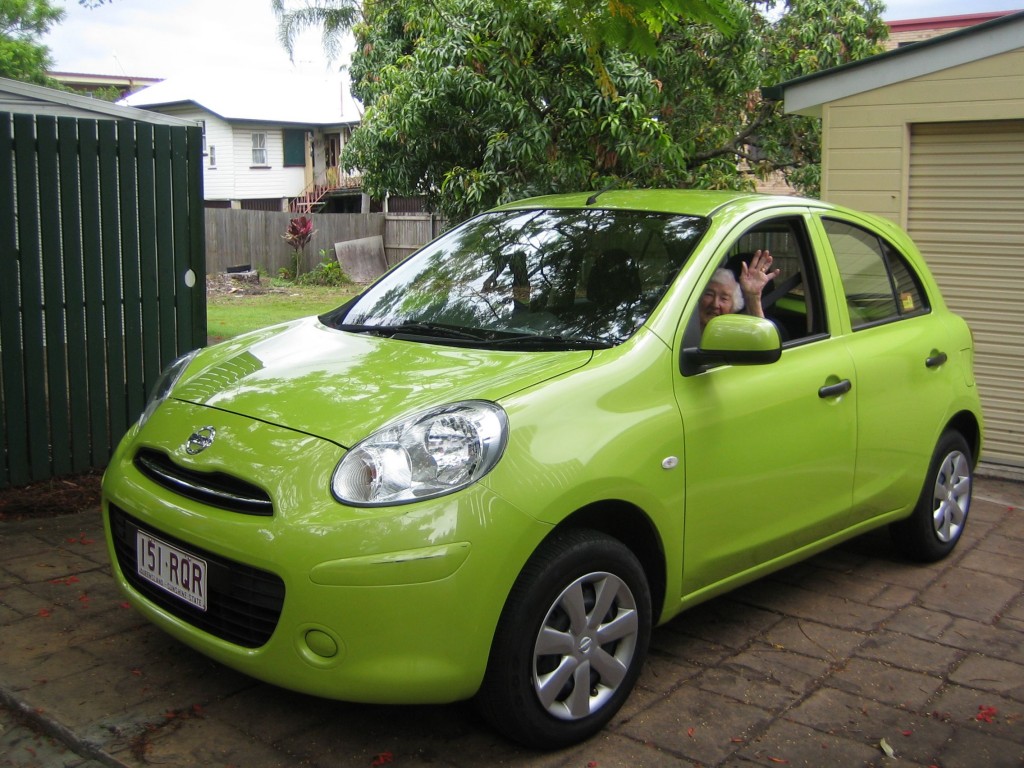 I knew as soon as I turned down the line which one it would be. Goddess was going to make me smile whether I wanted to or not! Her chosen tool was a lime green 'kermit car' that would have done Miss Piggy proud (and I may in fact have looked like the muppet at that point…). Even the attendant who checked me out of the boom gate commented on my shy retiring car.
By the time I arrived at Mum's the world was already a better place. I'd been singing along to Christmas carols in heavy traffic in a cartoon car in Brisbane. What's not to love about that!
We decided we'd go out to lunch and Mum suggested the local nursery. My heart sank. I'd envisaged something a little more swish than the tiny nursery up the road and round the corner, but hey, this was her Christmas treat.  I bundled her into the car.
And drove round the corner. There were no parks to be found and couple of grumpy drivers didn't make backing out onto the street any easier. You'd think they would have seen the humour in the car, if not my driving…
Finally we made it inside, my smile was starting to slip again. It was like walking into the tardis. From the outside it was tiny. Inside it opened up and out and the noise was wonderful. It seemed to be full of mothers and daughters, with the odd token male. All ages, all generations and all celebrating Christmas. It was light and airy and cheerful and that couldn't have been more appropriate as Mum had received some sad news in the early morning.
Her sister, Aunty Nonie, had passed away. She'd reached the grand old age of ninety-five, but sadly had been locked in her memories with advanced Alzheimers for several years. She was Mum's oldest sister in a family of seven children.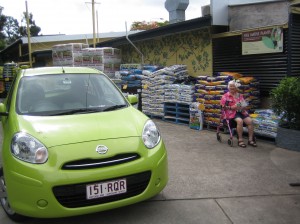 Mum is now the last one standing. Over lunch we talked about growing up in her large family where she was the middle child and obscurity was her lot. She told me again about the work she'd done in the Second World War in the WAAF. I wish I'd been recording it for my nieces to hear one day when they are old enough to appreciate what their Grandmother did as a young woman.
We ended up browsing through the plants before we left. Sat on her walker, clutching the gorgeous orchid, waiting for me to collect her Mum looked for all the world like a smiling garden gnome.
Despite the sad news it was a lovely way to celebrate Christmas and I hope we have many more with Mum yet to come. The only thing missing was my sister, but she phoned from France so she was part of the day too!