The snow didn't fall but everything else was exactly as I imagined for a winter Christmas.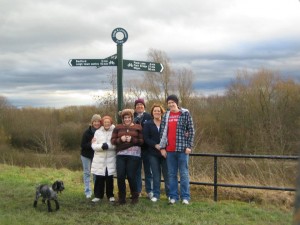 For once the travel gods smiled on us and we had a seamless journey from Cairns to Manchester – the highlight being the wonderful Qantas crew between Bangkok and London and the skybeds 🙂
We arrived a day early on Christmas eve, with the temp hovering around 5 degrees, and we haven't stopped since.
The thermal undies have had a workout along with scarves, hats and gloves. The trees are bare, the grass is a brilliant emerald green and the skies are grey, but I remember why I loved living in England so much. I love the humour of the Brits, I love their pubs, I love eating roast dinners when the rain is drizzling down outside. I love spending time with my husband's family.
Thanks to Hannah I have a new perspective on what constitutes a metro-sexual guy. (Not sure any of my heroes are going to wax their chests anytime soon, but you never know!) Jack, at only sixteen, gives new meaning to the term droll. I think I might have to borrow some of his one-liners for my characters. Raffa, the cocker spaniel, rivals Zeus in the adorable stakes and is certain to star sometime soon.
Only three more days to go, but we won't be slowing. We have to pack another five years of laughs into 72 hours (although hopefully we won't be leaving it so long between visits!)
Happy New Year to you all. I hope 2012 brings you much laughter, success – however you measure it, and time with the ones you love.