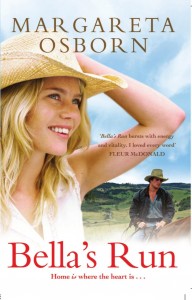 My guest today is debut author Margareta Osborn who I met for the first time in person at the RWA conference last year and she's as bubbly in person as she is on the page.  Her novel, BELLA'S RUN, is already earning rave reviews as a fresh voice in Australian Rural Fiction. Enjoy!
Margareta, welcome to my corner of the blogsphere and congratulations on your debut novel Bella's Run. You must be very excited! Can I jump right in and ask for your call story?
I was driving over the hill heading to the place where my family farm's cattle underpass goes under a main road. My agent rang on speakerphone to tell me she'd put my manuscript out to some publishers, subsequently I nearly drove into the underpass. The stress!
A little time later it was my birthday and I was in the supermarket doing the weekly shop. My agent rang me again and said we had an offer. I screamed into the closest grocery stand, which just happened to be the toilet rolls.
Toilet rolls? I guess that would have muffled the screaming! Like most writers you've had a variety of jobs.  It's a bit of a change from a governess to a petrol pump attendant 🙂 Which ones have had the most impact on your writing and why?
I'd have to say, in terms of impact on my writing; the petrol attendant job was definitely not instrumental. Most of my employment has been associated with the land. In my roles as both a Landcare Facilitator and as an Agricultural Extension Officer, I worked with farmers everyday to achieve aims with regards to natural resource management – in other words, farming sustainably so we can hand our farms onto the next generation in a more environmentally sound and profitable state.
I have also worked and lived on various properties; cropping, dairy farm, broad acre cattle station. Agriculture suits me because I am a child of the land. My own family has farmed the same property for 150 years. Rural life is what I live, what I dream about. I see it, I smell it, and I work at it everyday. To be able to either farm myself or be associated with farming is what makes me happy. It is what I am passionate about; therefore I could never imagine writing anything but rural fiction at this stage.
That passion for the land and farming shines through in your story.
And which of your hobbies, like riding motorbikes or water and snow skiing, have found their way into your stories? Or are you like me and have your heroines doing things you'd love to do?
None of the above has really made it into my stories, yet. I guess that's because my first real love is horses. And that's what I put in my books. My initial horse ride at the age of four ended in tears with a buck and a tumble that I still remember. But when I was ten, I'd badgered my father enough and he bought us a pony. Told us he was off for the day buying a bull and arrived home with Taffy, a skewbald pony with a bony back.
Various pony's later, I spent my teenage years riding all through the bush with an older cousin. I think that's where my love for wandering the scrub up into the mountains was probably born. My last horse died about twelve years ago, and since then I have been busy raising my children so I am yet to get another. But I will, as my daughter's now approaching the age of badgering me. Mind you, it won't take much convincing.
What a wonderful surprise from your dad. I have friends who did something very similar for their young daughter's birthday – and she's still smiling too!
Your connection with the land runs through five generations and that shows in the stories that you write. Are there historical connections you plan to explore in future books? You must have a wealth of family history that would give unique insights into the changing landscape of Australia.
Funny you should ask that, Helene.  I am currently sporadically researching a relative who was reputedly an English high-born 'Lady' who ran away with the gardeners son (naughty, naughty). My grandmother gave me a crystal silk winder, which the Duke of Norfolk gave our 'Lady' as a child, and this precious relic has made me curious as to the real story. A cousin in England is helping me untangle the conundrum.
My Great Great Grandparents, our family's first settlers here in the Macalister Valley, have their own story to tell – one of courage, hardship, love and grief. Out of seven children, two survived. One of these was my Great Grandfather. There is no doubt, I will one day write a story with the threads of my own family history woven through it.
Look forward to reading that story when you find the time to writer it!
You were part of the Marcus Oldham Rural Leadership Program. I'd never heard of it before so tell us about it and how it impacted on you.
The program is run by the Marcus Oldham Agricultural College and is recognized as one of the longest running rural leadership programs in Australia. In 1997, I was a recipient of a Victorian Rural Women's Bursary, an initiative of the state government to encourage leadership skills in rural women. The bursary enabled me to attend Marcus Oldham's program where we were encouraged to develop leadership, communication and planning skills to assist us in taking on leadership roles in our communities or the agricultural industry. The program also aimed to help us understand and address some issues facing our rural communities and industries.
For me this program was invaluable. I had just taken on the role of Landcare Facilitator to a couple of Landcare groups, which then expanded to a whole region. The skills I learnt in goal setting, developing action plans, communicating effectively, negotiation and public speaking, during the Marcus Oldham five-day intensive program were very helpful. The networking with other farmers also doing the program who were from many different agricultural sectors across Australia, was great too.
How do you manage your busy life? You write for Gippsland Country Life, work as a full time farmer, a mother and now a published author. You must be so organized! What tips do you have for others juggling so many careers?
My farm is a small beef property, so unless things are going wrong, it's fairly easy to run. I have the most wonderful husband who works shift work (off-farm) so he spends a lot of time out in the paddock as well. And I also help my father from time to time, on his place.
My commitments to the magazine are only once a quarter although it's surprising how quick that comes around. With regards to writing books, my children are now at school so that also makes it easier as I actually do sometimes get a hunk of a day to sit down and write. Don't get me wrong, things are hectic, but it's manageably hectic – most of the time. When stuff starts falling off the edges and the sides are crumbling in, I just remember, I'm not super-woman. And I start listening to my very laid back husband who says, 'Don't worry. It'll still be there tomorrow. Stressing about it won't help.' How right he is.
And my advice for other jugglers? I guess it all comes down to priorities. If you really, really want to do something, you'll find the time regardless.
How true. When it's something you love doing you make it happen.
You've told me you leave the bedroom door wide open in your stories. Did you find it difficult to write those scenes? Many authors shy away or struggle for authenticity. How do you go about writing them?
With love scenes, I go find a piece of music that speaks to me about the characters and where they are at, emotionally, physically and mentally. I plug in my ipod or turn on the CD really loud and I just write.
In saying this, I don't leave the bedroom door open on purpose. It's something the characters dictate and there must be a reason, like the story wouldn't be as rounded or layered if the love scene was deleted. There is one such piece in Bella's Run. I had no idea it was going to happen, and I can tell you, I was as shocked as anyone that it happened when it did!
Love it when the characters go their own sweet way…
Finally, what do you like most about your two central characters?
Bella is gutsy and willful but compassionate and loving. Her search for herself, love and the place she can call home, is something that I think is reflected in many of our lives.
Will is strong, responsible, caring and a total honey. I adore him. And even though he also stuffs things up here and there, ultimately he is a good man.
Gutsy and wilful conjure up strong images for me – and they are high on my list of good characteristics for a heroine! So over to you! Margareta and I would love to hear what sort of character traits are important to you.
And thanks to Margareta for dropping 🙂
Find Margareta at www.margaretaosborn.com
Follow her on twitter and Face Book.
Margareta Osborn is a fifth generation farmer who has lived and worked on the land all her life. She also writes about it in the Gippsland Country Life magazine.

Home is the beautiful Macalister Valley of East Gippsland in Victoria, where, along with her husband and three children, she spends many hours in the mountains that form the backdrop for her novels.

Bella's Run

Bella threw her hat into the air. 'We've lived one of our dreams, Patty. Our outback road trip is done. Now we're free and ready for our next adventure. I love my life!'

Bella Vermaelon and her best friend Patty are two fun-loving country girls bonded in a sisterhood no blood tie could ever beat.

Now they are coming to the end of a road trip which has taken them from their family farms in the rugged Victorian high country to the red dust of the Queensland outback. For almost a year they have mustered on cattle stations, cooked for weary stockmen, played hard at rodeos and danced through life like a pair of wild tumbleweeds.

And with the arrival of Patty's brother Will and Bella's cousin Macca, it seems love is on the horizon too …

Then a devastating tragedy strikes, and Bella's world is changed for ever.

So she runs – from the only life she has ever known. But can she really turn her back on the man she loves? Or on the land that runs deep in her blood?
Praise for Bella's Run
Both funny and heart-wrenching, Bella's Run is a rip-roaring debut brimming with the colour and vitality of life on the land.
'Bella's Run bursts with energy and vitality. I loved every word.' (Fleur McDonald)
'An outback story of life, friendships and undeniable love. A great read.' (Sara Storer)
'Bella's Run is a fun read for women.' (Bookseller&Publisher)
'A real tonic.' (Australian Country Style magazine)